Lynsey McNeilly MEng CEng MICE
Published: 18/09/2019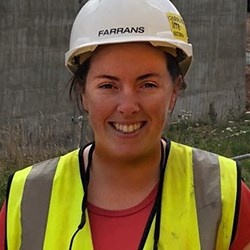 Education and qualifications:
MEng in Civil Engineering, Design and Management
Job title:
Section Engineer
Employer:
Farrans Construction
What inspired you to become an engineer or pointed you towards an engineering career?
My best subjects at secondary school were Technology and Design, Mathematics and Physics. I come from a rural background and always wanted to have a hands-on career. My father is a civil engineer and having been exposed to this working environment as a child I got the impression it would be something I would thrive at.
Can you describe a typical working day?
I get up at 6am, then arrive in work at 7am to complete the daily briefing for our subcontractors along with our engineering team. Each squad goes to work, I grab breakfast and head outside at 7.40am to check on everyone. I manage all the site works and make my way round all the squads continuously throughout the day, stopping for a second breakfast and lunch. I grab a few hours inside in between, to order materials and answer queries from the client.
After lunch we have a briefing meeting with the engineering team to ensure everyone knows the plans for the afternoon and the next day. At the end of the day I record all progress and make a to-do list for the next day. I head home around 6pm or 7pm depending on our rota and have a quick meal, a quick run and early bed.
Are there any particular challenges or unusual aspects to your role?
Time management and working with such a mix of people would be a challenge, however it is one which I really enjoy. I love working in a fast-paced environment with a lot of different things going on.
While gender would be the instant first thought, throughout my career on site I have become very capable of dealing with anyone with any issues regarding gender.
What do you find most enjoyable about your job?
The feeling when a large piece of work is completed, for example completing a complex length of pipework or building a large concrete structure gives a great feeling of achievement. Being praised for good practice and the good work that we do is a great feeling too.
Is there a great professional achievement or high-profile accomplishment that you would like to tell us about?
Achieving Chartered status while working 12-hour days three hours from civilisation (or what I class as civilisation) on a wind farm, has been my biggest achievement of the past year.
What contributed to your decision to become professionally registered?
Having finished university, it was clear to me that the next step was to work towards becoming Chartered. I enjoy studying and continually furthering my knowledge, so this was a great way to do so. Achieving registration as a Chartered Engineer (CEng) is recognition of my ability and the experience that I have gained during my career.
In what ways has registration benefitted your career?
Having the title of Chartered Civil Engineer has improved my career prospects and has given me the recognition I feel I deserve. It has also given me the authority that is often hard to obtain from certain people, based on my gender.
How does your employer benefit from your professional registration?
Having more Chartered Civil Engineers is very beneficial particularly in contracting, as many companies have not historically pushed for employees to work towards Chartered status. Having more Chartered Engineers provides more suitable candidates to put on both tender and Pre-Qualification Questionnaire (PQQ) submissions.
Is there any advice you would pass on to someone considering professional registration?
The work which is involved may appear daunting, but it is worth every bit of it. The feeling of achieving Chartered status, being recognised for your dedication and hard work, is brilliant.
Where do you see yourself in your career in five years' time or what are your future ambitions?
In five years' time I see myself as a successful and efficient project manager running my own project in the construction industry and managing a great team of enthusiastic engineers and work force.
Do you participate in any other career-related activities, such as mentoring, volunteering or membership of other engineering groups?
I have taken part in the Bridges to Prosperity trip to Rwanda with the Institution of Civil Engineers (ICE) Northern Ireland this year, which has been a brilliant opportunity and so worthwhile to do. It has been great to put my civil engineering skills to use in this environment.
Outside work, is there any activity you enjoy doing in your spare time that relates to engineering?
This year outside of work I was actively involved in organising the trip to Rwanda with Bridges to Prosperity. I also enjoy attending ICE events for networking and technical meetings to further my knowledge of civil engineering; particularly having the opportunity to learn outside my current field of work.