Leonids Polakovs BSc(Hons) MSc(Eng) CEng MIMechE
Published: 26/04/2022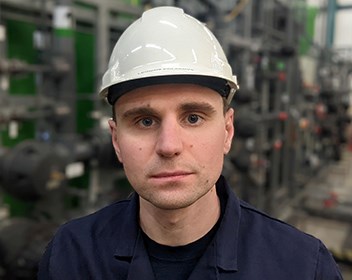 Education and qualifications:
MSc in Advanced Mechanical Engineering, University of Sussex
BSc (Hons) in Marine Engineering, Latvian Maritime Academy
HND in Marine Engineering, Liepaja Maritime College
Job title:
Lead Reliability Engineer
Employer:
VPI Power Limited
What inspired you to become an engineer or pointed you towards an engineering career?
I have always been interested in how things are built, designed and how they work. Since early childhood I have been fascinated by large machines and by people who can operate, design, or repair them. My father owned a small shipping company that operated five medium-sized fishing trawlers sailing in the Baltic Sea. Most of my free time was spent on these ships while they were in port, because I enjoyed wandering around engine rooms and trying to figure out how the engines, pumps and auxiliary systems operated and how other machines onboard worked. At some point I realised that Mechanical Engineering is exactly what I wanted to do, and I decided to study Marine Engineering so that I would be able to operate ships' engines and systems. Many years later I am still an inspired engineer and I keep learning new things on a daily basis.
Please describe your role or position within your workplace.
I currently work as Lead Reliability Engineer at Shoreham Power Station. I lead a small technical team to ensure safe, efficient and reliable operation of power station equipment and systems. My main objective is to prevent plant failures and eliminate or minimise losses associated with those.
This involves systematic analysis of operational data, technical risk identification and development of a mitigation strategy for every asset at risk. Once risks are identified and prioritised, I lead technical projects to implement improvement measures, including modifications of power station machinery and systems or changes to maintenance regimes and long-term strategy.
On top of that, I work on plant failure root cause analysis to understand the mechanisms that cause these failures. Understanding of failure mechanisms allows the issues to be effectively addressed. This helps with developing engineering solutions to ensure that failures do not occur again, and that the future reliability of systems and components is improved.
Can you describe a typical working day?
I begin every morning by reading the Operational Log, which lists all key events that have occurred over the last 12 hours at the power plant. This is followed by a production meeting, where operational, maintenance and reliability team leaders get together to discuss ongoing problems and plans for the day ahead on all activities on the plant. This is the only part of every day that does not vary much throughout the year.
The rest really depends on what is going on, but there is no such thing as two similar days, as there is always something different going on. I could spend the whole day reviewing some historic failure information or compiling breakdown statistics, or I can spend the whole day on the plant, managing contractors that work on machines and equipment.
Are there any particular challenges or unusual aspects to your role?
Our company has never had a Reliability Engineering Department before, and my team was only established in November 2021. One of the biggest challenges is to find the most effective way to collaborate with other departments, as it takes time to integrate a new engineering function into the station. This challenge, however, gives me a unique opportunity to shape the role of the whole team into what best fits for the purpose, and this is very exciting.
What do you find most enjoyable about your job?
Feeling that I make a difference is the most enjoyable thing about this job. I have an opportunity to improve processes and change the way the things are done to ensure they are safe and reliable, and this is fascinating. Another great thing about this role is autonomy in selecting focus areas and key priorities – to some degree I define my own workload, as it is my responsibility to identify the risks and propose solutions to those.
Is there a great professional achievement or high-profile accomplishment that you would like to tell us about?
I only started my new role a few months ago, but even in such a short period I have managed to set up the team and organise the way it works. I have also identified key technical risk and focus areas for the next 6 to 12 months, which I believe is a good start.
The past couple of years have been very busy for me during my time with the company. I have managed to finish several major projects across most of the power plants operated by the company I work for. My biggest achievements would be two planned major gas turbine outages that I led and completed on time and budget. Both these outages were planned a long time in advance, and I had to lead the preparations which started from agreement on the scope of required works, procurement of spare parts and consumables, resource planning and outage scheduling.
What contributed to your decision to become professionally registered?
Professional registration is an important milestone in every engineer's career as it reflects their commitment to the profession, professional accomplishments and, as a specialist, I feel it shows my value. I was inspired by my senior colleagues who are professionally registered, and I always wanted to reach the same level of professionalism that they have.
Another important factor is that in many cases there is no regulation on who can call themselves an engineer in the UK. This creates confusion when almost anyone can call themselves an engineer, which can diminish the efforts of some professionals who have invested a lot of time and energy into their education and professional development, but professional registration titles are legally protected. Professional registration is a good way to demonstrate that you have met the standards of competence and commitment, allowing you to say you are a professionally registered engineer.
In what ways has registration benefitted your career?
It has boosted my self-confidence in my work and provided me with real evidence that I have gone through the selection and approval process by a licensed professional body. Now I know that a recognised engineering institution confirms that my professional accomplishments have met certain standards.
Registration is not just a fancy title after your name, it also means that you have been independently assessed and are a member of a professional engineering institution, which provides you with a lot of opportunities for training, specialist conferences and other networking activities that help you to broaden your knowledge. These institutions also require you to have and maintain your Professional Development Plan, which ensures that you will always work to improve your skills and get more knowledge – this is good encouragement to keep working!
How does your employer benefit from your professional registration?
My employer is reassured by the recognition that my level of competence and professional commitment meets the criteria for registration. This helps my colleagues to understand what my abilities are as well as my level of knowledge and experience.
Is there any advice you would pass on to someone considering professional registration?
I would advise you to treat it very seriously and to get it done. It is hard work preparing everything for your registration, but it is worth it.
Where do you see yourself in your career in five years' time or what are your future ambitions?
A lot of long-term plans were shaken by the recent Covid-19 pandemic, and I currently do not know where I will find myself in the next five years as the whole world is still in quite a volatile condition. What I know for certain is that I will keep developing myself even further, and I will eventually end up in a senior management position, as this is still the main objective of my career development plan.
Besides this, I have recently established my own engineering training and consulting company, and I currently work in my own time developing my engineering business. Only time will tell where this will bring me over the next five years, but I am sure there will be a lot of interesting opportunities.
Outside work, is there any activity you enjoy doing in your spare time that relates to engineering? For example, do you participate in mentoring, volunteering or membership of other engineering groups?
I am an accredited mentor within the Institution of Mechanical Engineers (IMechE) Monitored Professional Development Scheme (MPDS) where I mentor young developing engineers within the organisation that I work for. This includes regular feedback sessions and review of quarterly reports from developing engineers, where I have to ensure that they meet the requirements of The UK Standard for Professional Engineering Competence and Commitment (UK-SPEC) and the IMechE.
Additionally, I took training and have joined the IMechE Professional Reviewer cohort, where I take part in the Professional Review Interviews for applicants seeking professional registration as Chartered or Incorporated Engineers.
Besides this, as a big engineering history enthusiast, I have established Shoreham Power Station 'Engineering Geek Club' which unites my colleagues who share the same interest in engineering. As the founder of the club I organise group visits to places of significant engineering history, such as museums and private technical establishments run by volunteers and enthusiasts. This allows us to broaden our knowledge of engineering history and learn something new as well as have some fun at interesting places.