Justin U Akpachiogu CEng MSaRS
Published: 30/08/2022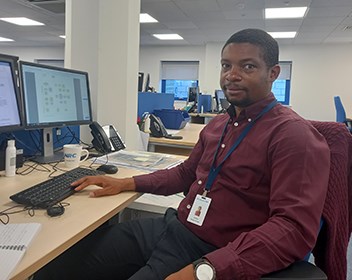 Education and qualifications:
MSc Safety and Reliability Engineering, University of Aberdeen
B.ENG Electrical Electronics Engineering, Madonna University, Nigeria
Job title:
Technical Safety Engineer
Employer:
Bluewater Energy Services Limited
What inspired you to become an engineer or pointed you towards an engineering career?
My Dad was an Electrical Engineer and at the time worked for an electrical manufacturing company. As a kid I would watch Dad carry out repairs on faulty electrical appliances within the house. I was his little helper holding the tools ready to hand them over when required. As a result, I developed an interest in problem solving and this stayed with me through college and university.
Please describe your role or position within your workplace.
My role is to provide technical safety support to the Aoka Mizu Floating Production Storage and Offloading (FPSO). I am responsible for the safety engineering activities that support operations to meet the company objectives. My responsibilities include providing independent technical safety engineering advice to ensure risk to personnel – including major accident hazards – are effectively assessed, evaluated and managed in accordance with relevant statutory and corporate requirements. My role also includes providing expert advice relating to design integrity, technical integrity and operating integrity, as well as participating in audits, health checks, technical reviews and incident investigations.
Can you describe a typical working day?
It's never business as usual when working in the oil and gas operations environment. Every day is unique as there are different challenges involved in maintaining production uptime. These challenges may arise from the breakdown of equipment critical for keeping production going, or perhaps delays in equipment delivery, etc. A typical day involves identifying and resolving these issues before they become a risk to personnel and have any impact on production.
Are there any particular challenges or unusual aspects to your role?
The oil and gas industry in itself is challenging especially for production assets (ie Aoka Mizu) located and operating in harsh environmental and weather conditions. Oil and gas is a highly regulated industry, there is a requirement to adhere to strict standards of safety for personnel and a duty of care for the environment. As part of my role is to ensure compliance with regulatory requirements in engineering design and operation, this is critical to the safety of personnel and the environment.
What do you find most enjoyable about your job?
I love my job. I am very passionate about my role and I get satisfaction at the end of a workday having had no incident on the asset and people can go back home safely to their families. My main goal is always to ensure the safe operation of our asset. Each day of an incident/injury-free asset brings a sense of fulfilment.
Is there a great professional achievement or high-profile accomplishment that you would like to tell us about?
My greatest professional achievement was successful registration as a Chartered Engineer (CEng). Since working as a graduate engineer eight years ago, my goal has been becoming a CEng, and I gained the necessary skills and competences required for CEng registration. My development continued by following a career path which provided some professional guidance at the time including a post-graduate program.
What contributed to your decision to become professionally registered?
Early in my career I started working for an Engineering Procurement and Construction (EPC) company within the oil and gas industry. As a graduate engineer we were encouraged to work towards professional registration by following a structured program developed by the company. I recognised that achieving Chartered status would demonstrate my competence, and I was rewarded with a promotion and added responsibility for becoming a CEng.
In what ways has registration benefitted your career?
Professional registration demonstrates, to my organisation, my competence and commitment to professionalism. This has also increased client confidence in delivery of both operations and design engineering deliverables.
How does your employer benefit from your professional registration?
Being a CEng has increased my understanding of the impacts of my decisions as an engineer, including ensuring ethical principles are followed as part of any engineering activity. I have also offered support to colleagues within the organisation who have indicated interest in becoming Chartered.
Is there any advice you would pass on to someone considering professional registration?
Becoming registered quantifies your professional development. It creates opportunities and also identifies the individual as adding value to their employer.
Where do you see yourself in your career in five years' time or what are your future ambitions?
I'd like to go back to university for an MBA degree. This would enhance my career development and lead towards taking up a leadership position within the industry.
Outside work, is there any activity you enjoy doing in your spare time that relates to engineering? For example, do you participate in mentoring, volunteering or membership of other engineering groups?
I support colleagues indicating interest towards attaining Chartered status by mentoring and providing professional advice.