Johanna Priestley CEng MICE FPWI MIAM
Published: 04/10/2023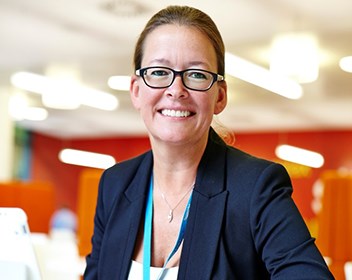 Education and qualifications:
Certificate in Asset Management, Institute of Asset Management
BTEC HNC Civil Engineering Studies, University of Northumbria
BTEC ONC Civil Engineering Studies, Newcastle College
BTEC HND Land Administration (Geographical Techniques), Luton College
Job title:
Route Engineer (Drainage & Off Track)
Employer:
Network Rail
What inspired you to become an engineer or pointed you towards an engineering career?
My career started with British Rail in their drawing office at Newcastle. I had trained as a cartographer/land surveyor, but I was given the opportunity to undertake further studies while working, and civil engineering gave me some great options for promotion.
Please describe your role or position within your workplace.
My current role is Route Engineer (Drainage & Off Track), I set the strategy for all the engineering work in drainage and lineside on the railway for the East Coast route. Lineside includes boundary fencing, vegetation management, access points and walkways. I also provide guidance to the maintenance teams.
Can you describe a typical working day?
That's really difficult as every day can be so different. I'm based in one of the York offices which is where all of the East Coast Route teams are based. I do a lot of travelling by train to visit the local maintenance teams in the out-based satellite offices and meet up with local engineers and their teams across the East Coast Mainline to  discuss performance issues and potential solutions for me and my team to investigate further. At the moment, we are in the final year of Control Period 6 and about to start Control Period 7. This requires a lot of work to understand the work priorities, given the budget constraints, and plan the access.
Are there any particular challenges or unusual aspects to your role?
Unlike other disciplines such as Track or Signalling, Drainage and Off Track assets and their performance are still not fully understood. There is a lot happening in the research and development world, however, and it will be exciting when this work is complete. The Digitised Lineside Inspection project, for example, is one which captures data via aerial survey but uses LiDAR, which is a 3D mapping tool, and hyperspectral technology, which assesses the health of trees. Both will replace how we inspect our vegetation which is currently by manual track patrol. Other particular challenges in my world include the impact of weather, especially given climate change and the increasing impact of wet summers, as well as commitments the business has given around biodiversity, habitat creation and the positive impacts on carbon. We also have the increasing challenge of managing the impact of Ash Dieback fungus, and the increasing potential of large ash trees falling on to the track.
What do you find most enjoyable about your job?
Without a doubt it's the people I work with, I never get tired of spending time with them. They truly are the most committed and professional community who really care about what they do and their colleagues around them.
Is there a great professional achievement or high-profile accomplishment that you would like to tell us about?
In the thirty plus years I've worked in the industry, there have been many highs and lows. I think my favourite role was when I was a Track Maintenance Engineer (TME). Being in my early thirties I was one of the youngest to become a TME at the time and I was one of only a handful of female engineers nationally.
What contributed to your decision to become professionally registered?
I was interested in becoming a Route Asset Manager and as such it was important to be professionally qualified. Initially I gained Incorporated Engineer (IEng) as I don't have a degree, however since then I have achieved Chartered Engineer (CEng) status with the Permanent Way Institution (PWI) through the experiential (individual) route.
In what ways has registration benefitted your career?
It hasn't yet as I only recently achieved CEng, but I do know from others that they have applied for roles and haven't been considered because they are not professionally registered.
How does your employer benefit from your professional registration?
Network Rail is increasingly wanting to professionalise and having fully qualified and professionally registered engineers is key. Nearly every railway engineering conference I get invited to has this on the agenda, encouraging younger engineers to start the journey.
Is there any advice you would pass on to someone considering professional registration?
Start as soon as possible and seek help from those who are already registered. I was lucky that I had a great mentor who gave me loads of advice and guidance.
Where do you see yourself in your career in five years' time or what are your future ambitions?
As you can imagine I've held a variety of roles, but there are still areas I haven't worked in. I spend a lot of time talking to the national Technical Authority – a team of 'Professional Heads' who set our policies and write all of the technical standards – and that is an area I'd like to be a part of in the future.
Outside work, is there any activity you enjoy doing in your spare time that relates to engineering? For example, do you participate in mentoring, volunteering or membership of other engineering groups?
I'm actively trying to encourage younger engineers to start their professional registration applications. I do quite a bit of mentoring, but I recently became a scrutineer of new applications for the PWI, and recently observed my first CEng interview.