Jo Parker MBE BSc MBA CEng FICE FIWater FCIWEM
Published: 22/06/2022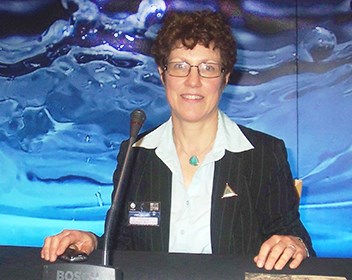 Education and qualifications:
Certificate in Expert Witnessing, Cardiff University/Bond Solon
MBA, Henley Management College
BSc Civil Engineering, University of Leeds
Job title:
Director
Employer:
Watershed Associates Ltd
What inspired you to become an engineer or pointed you towards an engineering career?
I liked maths and loved maps and drawing plans and elevations. I thought of Architecture but wanted something more technical. When I told my dad this, he suggested civil engineering. He had done a general engineering degree himself.
Please describe your role or position within your workplace.
I have my own company, Watershed Associates, and I act as a consultant specialising in the management of water pipes.
Can you describe a typical working day?
It's really difficult to describe a typical day as my work is very varied. I may be out on site auditing the quality of work for installing new water mains, managing an online steering group for a research project, talking to employees of an African water company via WhatsApp, writing method statements for a contractor, or providing an expert witness report related to water pipes.
Are there any particular challenges or unusual aspects to your role?
Running my own business means I have to manage my own workload. Sometimes two different clients want things at the same time – or several things – so that can sometimes mean burning the midnight oil. Working as an expert witness is also challenging. Every statement and fact must be checked, double-checked and triple-checked. Working with developing countries can sometimes be frustrating as their perceived priorities are not always the same as yours.
What do you find most enjoyable about your job?
There's so much I find enjoyable – I love almost all of it apart from invoicing and admin – and not too much of the latter! I love seeing the pride of our mains installers in their workmanship, and being able to share a positive audit with them. I love achieving a real step change in performance through coming up with a positive research outcome and I love seeing water utilities from developing countries, learning about them and improving how they work. I also find all the people I work with are great – the water industry has a pool of such talented and dedicated individuals who are really proud that what they do is essential to maintain the health of our country.
Is there a great professional achievement or high-profile accomplishment that you would like to tell us about?
I was very proud of repairing a major trunk main in Bosnia during the civil war. I volunteered to work for RedR in Afghanistan for nine months in 1989-90 in order to gain the experience of managing manual labour that I needed for a role at Thames Water in the UK. As I had gone for largely selfish reasons – purely to get that expertise – and having had such good experience, I felt I should volunteer for another assignment which I would not necessarily benefit from. Through RedR I went to Bosnia, where I was based in Pale, for three months with the International Committee for the Red Cross. I was asked to repair some water mains and pumps, which I did. I had to work hard to source materials and gain the trust of the Serbs as I was working in their area but repairing a pipeline which ran into Muslim-held Sarajevo.
I also managed to get the Muslim and Serb engineers to meet, and they agreed to share equipment, drawings etc. The meeting between the two factions came from a conversation with another engineer, when I was in Sarajevo, to check the results of the work. We met at the airport which was neutral territory held by the UN. He organised the Muslims to go to the airport and I organised the Serbs. Both factions took some persuading, but I'd worked with the Serbs and they trusted me and had also benefited from the repairs. I had to track down some petrol for the Serbs' car as they weren't allowed to use Red Cross transport. I also provided some plum brandy which helped oil the wheels of the discussions!
This project meant that a whole section of Sarajevo inhabitants did not have to suffer 'sniper alley' to collect their water.
I also project-managed a research project 'VISTA' which was developed into the first online integrated utility records system in the world. The system replaced the requirement to approach each utility individually, obtain their records and then compile them into a single record – saving time and eliminating the opportunity to make mistakes. The project won two awards, the Institution of Engineering and Technology (IET) E&T Innovation Award and the National Joint Utilities Group (NJUG) Innovation award.
Having developed the approach, the Scottish Roadworks Commissioner then approached me to manage a project to implement the system in Scotland. I worked with the systems specialist who provided street works noticing systems in Scotland to create the Scottish Community Apparatus Data Vault.
What contributed to your decision to become professionally registered?
I decided to become Chartered because I wanted to be recognised as a fully qualified civil engineer. With so few women in the industry at the time I felt I needed to prove my capabilities.
In what ways has registration benefitted your career?
Professional registration made a big difference initially, as certain grades in my department were only open to Chartered Engineers (CEng). The title establishes my credentials as an independent consultant and is really important as an expert witness.
As an employer, what is the benefit of employing professionally registered engineers?
I am my own employer so clients need to have confidence in my capabilities – and in fact some of the work I've done was only open to professionally registered engineers.
Is there any advice you would pass on to someone considering professional registration?
Definitely go ahead. It's not as much of a challenge as you may think, especially if you start collecting information together as early as possible and maintain a good record of the work that you do and projects you work on.
Where do you see yourself in your career in five years' time or what are your future ambitions?
In five years time I will be 73, although I do enjoy my work and there's a shortage of experienced engineers in my field so I may carry on. I'll certainly still be involved in engineering through the various professional and trade bodies for whom I volunteer, plus my work with African water companies. Whether or not I'm still working I will have a very long and enjoyable career to look back on. There can't be many people who decided what they wanted to be at the age of 14 and are still doing it over 50 years later!
Outside work, is there any activity you enjoy doing in your spare time that relates to engineering? For example, do you participate in mentoring, volunteering or membership of other engineering groups?
I am Vice President of Engineering at the Institute of Water (IWater) which I thoroughly enjoy. This role ensures that IWater maintains its procedures and that professionally registered engineers in IWater are catered for. I'm also Chair of the Water and Sanitation Community Advisory Board at the Institution of Civil Engineers (ICE) which provides input into the Engineering Knowledge section of ICE. I'm a member of the Water Loss Specialist group of the International Water Association (IWA) and many of the other members have become fast friends. I've gained work through this, but also lifelong friends. The same can be said of the Pipeline Industries Guild – I have so many friends there. Finally I work with the climate emergency group and the Diversity and Inclusion group of the Women's Engineering Society (WES) which is very rewarding.