Jin Xuan PhD CEng FIMechE FHEA
Published: 24/04/2023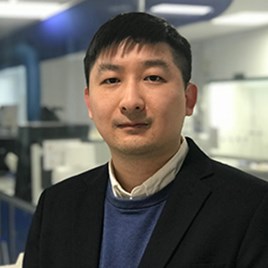 Education and qualifications:
PhD in Mechanical Engineering, The University of Hong Kong
BEng in Engineering, Zhejiang Sci-Tech University, China
Job title: Professor and Associate Dean (Research and Innovation)
Employer: Faculty of Engineering and Physical Sciences, University of Surrey
What inspired you to become an engineer or pointed you towards an engineering career?
I was from a small town in the east of China. I've seen how engineering has enabled the quick development of China and made a significant improvement to peoples' lives in the past 30 years. It was very natural for me to choose an engineering subject in college. When I did my PhD, it became even clearer to me that the world desperately needs novel engineering solutions to enable future sustainable development and tackle various energy and environmental challenges, so I decided to continue my career as an engineer with a focus on research and scholarship.
Please describe your role or position within your workplace.
I am a Professor and the Associate Dean (Research and Innovation) for the Faculty of Engineering and Physical Sciences at University of Surrey. My job is to lead the research and innovation of the faculty. My personal research focuses on renewable and low-carbon energy engineering such as fuel cells, solar fuels and Carbon Capture Utilisation and Storage (CCUS) to tackle the Energy Trilemma of energy security, energy equity (accessibility and affordability) and environmental sustainability.
Can you describe a typical working day?
I don't have a typical working day because every day the working pattern is so different. Basically my job is always a mixture of the following activities: I inspire the next generation of professional engineers through our accredited taught engineering programmes; I lead my team to do cutting-edge research on energy engineering and disseminate the research outputs via publications or conference presentations; I also work closely with companies on various projects aiming to solve real life problems and deliver real life impact.
Are there any particular challenges or unusual aspects to your role?
It is sometimes challenging to create a perfect balance between research, teaching and enterprise activities. We have to find a smart way to handle the three so that they complement, rather than obstruct each other, but it is not always possible.
What do you find most enjoyable about your job?
Doing research, teaching and enterprise activities are all very rewarding experiences, but I enjoy most being an educator and inspiring young future engineers. I find the greatest satisfaction when students overcome learning challenges and achieve their goals.
Is there a great professional achievement or high-profile accomplishment that you would like to tell us about?
My research achievements are mainly in the thermofluids aspects of renewable energy devices and systems. I pioneered the research direction of microfluidic electrochemical systems, especially for CO2 capture storage and utilisation and solar fuel production. I use a microfluidics and microsystem approach to employ a scale effect to create new functionalities that are not obtainable at a conventional scale.
This research has helped me win a number of awards, such as The Scottish Energy News Researcher of the Year Award in Energy and Materials and becoming a finalist in the Institution of Engineering and Technology (IET) Innovation Awards (Power and Energy category). My research has also been highlighted in the media, including The Times ("Scientists see the light and make cheaper fuel from sun") and BBC News ("Future fuel quest takes a step forward").
What contributed to your decision to become professionally registered?
When I was doing my PhD, I noted that my supervisor, who is a world-leading academic in engineering science, had the post-nominals CEng FIMechE FEI. Even at that time when I didn't fully understand the system, I did realise they are measures of esteem, and they were something I should seek in the future. I started to learn more about professional registration after I became a lecturer. As soon as I was able to meet the competences, I started the application.
In what ways has registration benefitted your career?
In many ways. Being a Chartered Engineer (CEng) is a recognition of my practical competence as well as academic ability. The title of CEng is highly respected by industry partners when working on collaborative proposals and projects.
How does your employer benefit from your professional registration?
Most UK universities, including my employer, are always keen to maintain a high proportion of professionally registered academic members of staff. It is essential to raise the reputation of the university and shows prospective students and industry partners that our teachers and researchers are committed to keeping our knowledge, understanding and skills up to date.
Is there any advice you would pass on to someone considering professional registration?
Some engineering academics hesitate to put themselves forward for professional registration. There is a perception that academics may not be able to fully demonstrate all the competences  ̶  I can say from my own experiences that it is not true. Academics can meet the competences within our day-to-day responsibilities, emphasising education and research, which indeed are important professional engineering skills.
Where do you see yourself in your career in five years' time or what are your future ambitions?
I hope to further develop my leadership, and to continue my research, teaching and innovation at the frontiers of engineering. I also wish to better support my team members (such as PhD students and post-doctoral Fellows) to reach their full potential in their careers.
Outside work, is there any activity you enjoy doing in your spare time that relates to engineering? For example, do you participate in mentoring, volunteering or membership of other engineering groups?
Yes, this is actually a significant part of my job. I am a Board Member of the Institution of Mechanical Engineers' (IMechE) Process Industries Division and have served as a Professional Review Panellist for IMechE many times. I am an advocate for my research and for engineering by my participation in various public engagement events, such as an exhibition at the Scottish Parliament, the International Year of Light, hosting lab visits by public delegates and training Science, Technology, Engineering and Mathematics (STEM) high school students, hoping to inspire young people to work in engineering.
In my spare time I love to use Twitter to promote our research achievements, funny engineering news and to interact with other engineers through social media. We share our professions as well as hobbies. You can find more about me via @Jin_Xuan_