Jenny Roberts MEng CEng MIED
Published: 05/09/2018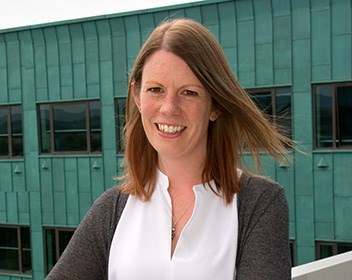 Education and qualifications:
CEng awarded in March 2018
MEng Mechatronic Engineering (first class) from Lancaster University
A levels in Maths, Physics, Design Technology and General Studies, West Kirby Grammar School
Job title:
Senior Project Engineer, BridgeCat
Employer:
Gaist Solutions
What inspired you to become an engineer or pointed you towards an engineering career?
I've always loved making things and at school I particularly enjoyed Design Technology (DT). It was a DT teacher who mentioned engineering and before that I'd not really heard of it or realised that there was a career that embodied all of the subjects I really enjoyed at school.
Can you describe a typical working day?
When I'm out testing our mobile bridge inspection system (BridgeCat), I'll be on site early to oversee the setup of the equipment and ensure the appropriate traffic management is in place to allow us to inspect the bridge. I ensure that the system is positioned correctly for the inspection to take place and instruct the operators on where I'd like the equipment (sonar and underwater camera) placed in the water. I'll then record the results in this location and advise on the next point in the water the equipment should be moved to. This is repeated until the whole bridge has been inspected. The equipment is then disassembled, stored on the vehicle and I head back to the office to process the results.
A day when I'm in the office may involve designing elements of the system using CAD, making sure my project plan is up-to-date and I'm on schedule with everything, processing any data that has been collected from a bridge inspection and collating this into a report that is easy to understand for both technical and non-technical colleagues. I also look at the more strategic side of the project and am responsible for determining whether the system is cost effective, the statistics around where the system could and should be used, and making suggestions on future developments to enhance the system both technically and commercially.
Are there any particular challenges or unusual aspects to your role?
Working in a small company, I tend to have a broader role than you might expect my counterpart in a larger organisation to have. However, I enjoy the associated challenges with this and I think it makes for an extremely interesting role that varies greatly day by day.
A more unusual aspect of the role is that I've been interviewed several times for local media, independent film makers and have presented at several industry events and meetings. Being interviewed and filmed doesn't come that naturally to me, but it's something that I'm getting a bit more used to and comfortable with now!
What do you find most enjoyable about your job?
I love seeing the whole life cycle of a project and being involved with it from start to finish. The BridgeCat project started as a concept on paper and I've seen it through to an operational prototype that is producing some really exciting and useful results. The sense of pride when you first see something in physical that you've designed from scratch is immense and this is definitely the best aspect of my job.
Is there a great professional achievement or high profile accomplishment that you would like to tell us about?
Chartership has been a goal of mine since the age of around 17 and is undoubtedly the aspect of my career to date that I'm most proud of, especially as there have been times when I've been unsure of whether I could achieve this as well as having a family.
As a result of my application for Chartered Engineer status and the subsequent interview, I have also been awarded the Kathbert Trophy from the Institution of Engineering Designers (IED) which I received in July 2018.
What contributed to your decision to become professionally registered?
I've always pushed myself to aim high and have strived to become the best engineer I could be. To achieve this, I wanted to be recognised as a professional engineer who is respected in their field and chartership really embodies this.
In what ways has registration benefitted your career?
Registration has given me instant credibility when introducing myself at conferences or to new clients, it's an accolade that is widely recognised and highly regarded. It's given me a boost in confidence and determination to keep pushing myself to achieve more great things.
How does your employer benefit from your professional registration?
Having a Chartered Engineer on their staff again gives the company credibility when speaking about the project I run and our engineering team generally. The company is rapidly growing and has just been successful in obtaining £2.7 million in investment. In time the engineering team will grow, and I hope to be pivotal in providing support for this. If I was looking to join the company as a new engineer, knowing the company had supported another engineer through professional registration would be a huge positive.
Is there any advice you would pass on to someone considering professional registration?
Keep a good record of all of your achievements throughout your career, even if at the time they don't seem significant. It will make writing your professional review report that little bit easier. There were achievements earlier on in my career that I'd totally forgotten about when it came to writing the report but thankfully that I'd kept a record of and subsequently included.
It's definitely a worthwhile process, experience and achievement when you are awarded CEng.
Where do you see you in your career in five years' time or what are your future ambitions?
I hope to constantly improve as an engineer and still strive to become better at what I do each day. Over the next five years I hope to grow with the company I work for, establish a larger engineering team and develop new innovative projects with them.
Do you participate in any other career-related activities, such as mentoring, volunteering or membership of other engineering groups?
I'm a Science, Technology, Engineering and Mathematics (STEM) Ambassador and support a lot of STEM events that happen in the local area, but particularly at my alma mater Lancaster University. I also take part in the career mentoring scheme that Lancaster University runs, which partners a second year student up with someone in a career that they hope to go into after graduating.
Outside work, is there any activity you enjoy doing in your spare time that relates to engineering?
I love cycling and pretend to love running too, however they don't really relate to engineering but do refresh my brain which makes me more focused at work!
I also enjoy sewing and trying to make clothes. Following patterns/instructions and ensuring I'm precise in my measuring, cutting and stitching draws a lot of parallels with the skill set I use for engineering, which I think is why I enjoy it so much.