Jagadish Babu CEng C.WEM MCIWEM
Published: 19/05/2021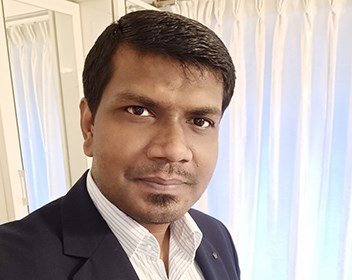 Education and qualifications:
MTech in Industrial Pollution Control, National Institute of Technology Karnataka
Job title:
Design Manager
Employer:
Atkins, a member of the SNC-Lavalin Group
What inspired you to become an engineer or pointed you towards an engineering career?
I always wanted to understand the process of how things are built, especially the infrastructure interaction between humans and nature. While growing up I realised that the understanding alone is not enough, but I needed a systematic approach to build a safe and sustainable environment. That's why I chose engineering, and especially civil engineering over other specialisms.
Please describe your role or position within your workplace.
I am a Design Manager for Clean Water Networks. I lead the clean water network business from India, mainly looking after business development, project delivery and training and development of the team.
Can you describe a typical working day?
A typical day at work starts with casual greetings. I spend some time in planning for the day and see how I can manage my time for the day's work. Most of my days in the office are spent in planning the projects, reviewing their progress and checking and reviewing the deliverables. In the afternoon (India time) when the UK offices start, I usually have catch-ups with the project managers specifically about resourcing, opportunities and feedback. I make sure I feed back to the team. I also start my day early, to make sure I have enough time for exercise and my family too.
Are there any particular challenges or unusual aspects to your role?
Staff retention is one of the major challenges in my role, especially in India. Because of the heavy competition and growing opportunities in the market, I am committed to create challenging opportunities for everyone in the team.
What do you find most enjoyable about your job?
Staff training and development is what I enjoy the most. I always make sure everyone in the team has a customised training plan and a focused career path.
Is there a great professional achievement or high-profile accomplishment that you would like to tell us about?
I am the first Chartered Engineer (CEng) from the Chartered Institution of Water and Environmental Management (CIWEM) in India. That makes me feel proud. Apart from that I am pursuing my PhD now. I am happy that all that I am doing is very aligned with the business's needs and is helping me to grow in my career.
What contributed to your decision to become professionally registered?
Increasing awareness in the industry and the need for professionally accredited candidates made me decide to go for registration. Definitely the perks associated in terms of money, professional networking and the recognition that I receive made me think of it.
In what ways has registration benefitted your career?
More than anything, I am recognised in the industry and I am able to network with people in my industry. I have inspired many young engineers who have followed me.
How does your employer benefit from your professional registration?
Working in an offshore design centre and having professional accreditation gives clients a high degree of trust and confidence. This has become a selling strategy for the business in offshore.
Is there any advice you would pass on to someone considering professional registration?
Professional registration will not just give you a title next to your name, it also changes the behaviour of the individual, the way we see, think about and approach engineering.
Where do you see yourself in your career in five years' time or what are your future ambitions?
I am always fascinated by training and development. I might end up teaching or else learning.
Do you participate in any other career-related activities, such as mentoring, volunteering or membership of other engineering groups?
I am leading an initiative called Professional Development Cell in SNC Lavalin's Atkins business in India. In this initiative I am spreading the awareness of professional development among the staff and creating opportunities to fill the gaps in their competencies, supporting them in working towards membership of various institutes like CIWEM, Institution of Civil Engineers (ICE), Institution of Mechanical Engineers (IMechE) etc. and professional registration.
Outside work, is there any activity you enjoy doing in your spare time that relates to engineering?
I go to schools to teach the under-privileged students about environmental sustainability and educating them on reducing their carbon footprint.