Jade White BSc BEng (Hons) CEng MWeldI EWE/IWE
Published: 26/01/2023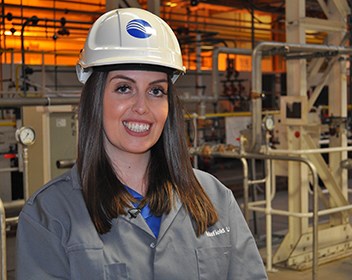 Education and qualifications:
International Welding Engineer/European Welding Engineer Welding Engineering Diploma, The Welding Institute
BEng Honours Nuclear Plant Operations & Process, University of Central Lancashire
BSc Mathematics, Lancaster University
Job title:
Welding Engineer

Employer:
Sellafield Ltd
What inspired you to become an engineer or pointed you towards an engineering career?
Growing up in Barrow-in-Furness, with companies such as BAE Systems and Sellafield Ltd on my doorstep, I was exposed to engineering as a potential career with a good salary from a young age.
Please describe your role or position within your workplace.
I am a point of contact for site welding issues, liaising between the relevant welding department, customers and notified bodies. This includes providing a specialist consultancy service on fabrication and welding.
Can you describe a typical working day?
On a typical day I review welding procedures and offer technical advice on welding and fabrication to various projects on site. But in practice, there is no typical working day, because new challenges are always coming up.
Are there any particular challenges or unusual aspects to your role?
No two days are the same, a different welding-related problem or task can land on my desk at any time. Working in a nuclear environment this can pose challenges that range from dealing with historical legacy plants or new-build construction.
What do you find most enjoyable about your job?
It is very varied; I work across the Sellafield site covering all operating units and projects, as well as offsite work, travelling to contractor works around the UK.
Is there a great professional achievement or high-profile accomplishment that you would like to tell us about?
I'm pleased to have completed my Welding Engineer Diploma and gained Chartered Engineer (CEng) status.
What contributed to your decision to become professionally registered?
Having held Incorporated Engineer (IEng) status, I was encouraged to pursue my CEng registration. I believe it is important to be acknowledged by my peers; mainly for recognition of competence, commitment and evidence of expertise. It also demonstrates a professional attitude and can lead to improved career prospects and employability.
In what ways has registration benefitted your career?
Since becoming registered I have benefitted from internal promotions via a Technical Career Path, which required membership of the appropriate institute and professional registration with the Engineering Council. While the requirement to keep on top of Continuing Professional Development (CPD) has created clear evidence of my achievements, CPD also helps me to identify areas of improvement, which in turn supports my performance management agreement with my employer.
How does your employer benefit from your professional registration?
My employer benefits from having a team member that demonstrates a professional attitude and is recognised by their peers, through recognition of my competence, commitment and evidence of expertise.
Is there any advice you would pass on to someone considering professional registration?
My advice is to keep an up-to-date record of CPD and the supporting evidence. It makes completing the required evidence much simpler to have examples of personal performance, projects worked, networking and training, to hand.
Where do you see yourself in your career in five years' time or what are your future ambitions?
I aim to continue adding to my professional development and experience in my role as a welding Subject Matter Expert (SME) for Sellafield Ltd.
Outside work, is there any activity you enjoy doing in your spare time that relates to engineering? For example, do you participate in mentoring, volunteering or membership of other engineering groups?
I volunteer as a school Chair of Governors and as a Science, Technology, Engineering and Maths (STEM) Ambassador with particular emphasis on girls in engineering. I have previously been a member of WES, the Women's Engineering Society.
Do you identify as disabled, or as a member of a minority or under-represented group? Would you like to comment on what impact or influence you feel this has had upon your career?
I am a member of the Women in Nuclear here at Sellafield. Being female has given me multiple opportunities to branch out from my role and support equality in engineering. I can happily say I have never met resistance from male colleagues and have always been encouraged throughout my training and early career with Sellafield. I am however aware that I stand out within the welding engineering field, as females in this role are few and far between.