Habib Faridoon BEng CEng PEng CAP MInstMC SM-ISA
Published: 01/08/2023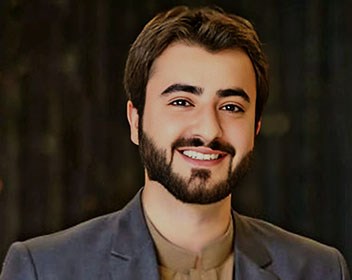 Education and qualifications:
BEng Electrical Engineering, COMSATS University, Pakistan
Certified Automation Professional (CAP), International Society of Automation (ISA), USA
Job title:
Control System Engineer
Employer:
Lean Automation
What inspired you to become an engineer or pointed you towards an engineering career?
The moment I learned about the marvels that engineering could achieve, I knew it was my calling. As a child, I was always fascinated by how things worked, especially the mechanisms behind the machines that surrounded me. My natural aptitude for maths and physics only served to deepen my curiosity. As I grew older, I started exploring different fields, but none of them managed to capture my imagination like engineering did. I was drawn to the idea of creating solutions for real-world problems and making a tangible impact on people's lives. Engineering offered me the opportunity to put my knowledge and skills to the test, and to constantly challenge myself to come up with innovative solutions. Ultimately, my drive to use science to make a difference led me to pursue a degree in electrical engineering and become a control system engineer today.
Please describe your role or position within your workplace.
As Senior Control System Engineer at Lean Automation, I hold a lead role that involves overseeing projects from conception to completion. Lean Automation integrates systems and provides advanced automation solutions, providing services to the oil and gas, petrochemical, metal and mining, water and wastewater and utilities industries. My responsibilities include managing a team of engineers, identifying, and resolving any technical issues that arise, and ensuring that projects are delivered on time and within budget. I am responsible for ensuring that our team has the necessary resources and support to deliver high-quality work.
At Lean Automation, we undertake a wide range of projects, including the design and implementation of complex control systems, process automation, and integration of state-of-the-art technologies. These projects often require collaboration with clients from diverse sectors, and I work closely with them to understand their specific needs and provide tailored solutions that meet their requirements. Overall, my role requires a combination of technical expertise, project management skills, and the ability to effectively lead and motivate a team towards success in delivering innovative and reliable control system solutions for our valued clients.
Can you describe a typical working day?
My typical working day varies depending on the projects I am working on and their respective timelines. However, generally I start off by diving into my emails and messages, responding to urgent client or team member enquiries. From there, I spend time meeting with my team to discuss ongoing projects, where I provide valuable guidance and support to ensure the highest quality work possible.
I spend a considerable amount of time creating project plans, monitoring progress, and ensuring that our projects are on the right track. At the same time, I'm also busy with technical tasks like designing and implementing control systems solutions and troubleshooting any issues that may arise. In today's fast-paced environment, it's vital to stay on top of the latest technologies and trends in my field. That's why I dedicate time each day to stay up to date with the newest developments, ensuring that our solutions are always at the forefront of innovation. Another key part of my day involves liaising with clients to provide updates on project status, to discuss concerns, and recommend improvements to the project. In a nutshell, my day is diverse and challenging, requiring me to balance both technical and managerial tasks to ensure project success and complete client satisfaction.
Are there any particular challenges or unusual aspects to your role?
There are certainly unique challenges and aspects to my role. One of the primary challenges is managing complex projects that involve multiple teams and stakeholders, as well as tight timelines and budgets. This requires me to be highly organised and adaptable. Another aspect of my role that can be challenging is the technical complexity of the work we do. Control system engineering involves dealing with intricate systems and equipment, as well as staying up to date with constantly evolving technology. This requires a deep understanding of the science and technology behind the solutions we create, as well as the ability to troubleshoot any issues that arise. Finally, working with clients can also present its own set of challenges. It's essential to have excellent communication skills to ensure that I fully understand our clients' needs and expectations. I must also be able to explain complex technical information in a way that is accessible and understandable to clients who may not have a technical background.
What do you find most enjoyable about your job?
What I find most enjoyable about my job is the variety of tasks and challenges that come with it. I love that I get to work on both technical and managerial tasks, from designing and implementing control systems solutions to project management and team leadership. It keeps my day interesting and engaging, and I am constantly learning and growing in my role. I also enjoy the satisfaction that comes from seeing a project through from planning to delivery and knowing that I played a key role in its success. Collaborating with my team members and clients to create innovative solutions to complex problems is incredibly rewarding. Overall, I find my job to be both stimulating and fulfilling, and I look forward to continuing to make a positive impact in my field.
Is there a great professional achievement or high-profile accomplishment that you would like to tell us about?
As a Chartered Engineer (CEng) and Professional Engineer (PEng), I have had the opportunity to lead and contribute to several significant projects. One of my proudest accomplishments was leading a team to develop our own product, the Industrial Data Diode, which supports multiple protocols and fully complies with cybersecurity standards. This project not only demonstrated our team's technical expertise, but also our ability to innovate and develop practical solutions for our clients. Another major accomplishment was my role in driving digital transformation for one of our clients. Utilising top technologies and our team's expertise, we were able to modernise their processes and systems, resulting in increased efficiency and cost savings. Seeing the positive impact of our work on our client's operations was truly satisfying. These achievements have not only enhanced my technical knowledge and skills, but also my leadership and project management abilities. I am excited to continue taking on new challenges and making a difference in my field.
What contributed to your decision to become professionally registered?
For me, becoming professionally registered was a natural progression in my career as a control system engineer. It demonstrates a commitment to the highest standards of professionalism and ethical conduct, and shows that I have achieved a certain level of competence and expertise in my field. Becoming a CEng and a PEng also provides me with greater recognition and credibility within the industry, which can lead to new opportunities and career advancement. Additionally, being registered with professional bodies provides access to a wealth of resources, training, and networking opportunities that help me stay up to date with the latest industry developments and best practices. Being professionally registered is crucial for my ongoing development and ensures that I provide the best service to clients and colleagues.
In what ways has registration benefitted your career?
Becoming registered as a CEng has brought significant advantages to my career as a Control System Engineer. Firstly, it has allowed me to showcase my expertise and competency, thus elevating my reputation among industry peers and clients alike. Secondly, through the registration process, I have unlocked a treasure trove of professional resources and networks, equipping me with the latest knowledge and best practices to continuously refine my craft. As a result, I have become a more adept decision-maker and agile problem solver in my work. Additionally, my CEng registration has given me a distinct competitive edge, positioning me favourably in a highly competitive job market, and opening doors to new and exciting career opportunities.
How does your employer benefit from your professional registration?
My registration benefits my employer in several ways. Firstly, it assures clients that they are working with a qualified and competent engineer who is committed to maintaining high standards of work. This can enhance our reputation, build trust, and lead to more business opportunities. Secondly, my ongoing professional development ensures that I am up to date with the latest industry trends and best practices, which can lead to more innovative solutions for our clients. Lastly, my registration helps to reinforce the company's commitment to providing high-quality services and upholding industry standards, giving us a competitive advantage in the market.
Is there any advice you would pass on to someone considering professional registration?
If you're considering professional registration, my advice is simple: go for it! Achieving a CEng or other professionally registered designation demonstrates your commitment to excellence, ongoing learning, and sets you apart in a competitive job market. To get started, research your options, set a plan, and seek out mentors and professional networks for guidance and support. With professional registration, you can unlock new career opportunities and enhance your expertise, making you an invaluable asset to any employer. So why wait? Take the first step towards your professional development and elevate your career to new heights!
Where do you see yourself in your career in five years' time or what are your future ambitions?
In five years' time, I see myself continuing to grow and develop more. I am always seeking out new challenges and opportunities to enhance my skills and expertise, so I hope to have taken on more complex projects and responsibilities within my field. I also plan to stay up to date with the latest advancements and emerging technologies as this is an ever-evolving field. My goal is to become a recognised leader in the control system engineering community, contributing to the development of innovative solutions that improve the efficiency, safety, and sustainability of various industries. Whether through professional development, mentoring, or collaboration with peers, I am excited to continue pushing the boundaries and achieving new heights in my career.
Outside work, is there any activity you enjoy doing in your spare time that relates to engineering? For example, do you participate in mentoring, volunteering or membership of other engineering groups?
Beyond work, I am an active member of engineering organisations such as the International Society of Automation (ISA) and the Institute of Measurement and Control (InstMC). This keeps me updated on advancements and trends in my field, while mentoring aspiring engineers allows me to give back. In my free time, I enjoy diverse activities like reading on various topics, watching documentaries, and playing snooker to recharge and gain new perspectives.