EUR ING Tariq Umar PhD CEng MICE FHEA
Published: 21/11/2023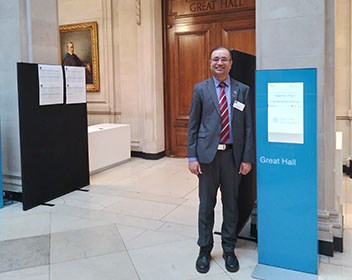 Education and qualifications:
PhD, Construction Management, London South Bank University
MSc, Civil Engineering, University of East London
B.Tech (Hons), Civil Engineering, Preston University (Pakistan)
Diploma of Associate Engineer, Civil Engineering, Board of Technical Education, Pakistan​
Job title:
Senior Lecturer Construction Project Management

Company: University of the West of England, UK 





What inspired you to become an engineer or pointed you towards an engineering career?
Engineers have a key role in facilitating the comfort of life of mankind through their engineering projects and innovation. I developed a keen interest in engineering, especially civil engineering, when I was in secondary school. I was always inspired by engineers constructing roads and buildings and used to make models of buildings and houses out of empty cartons. At that time I began to seriously consider pursuing further study in civil engineering.
I started my career in 2003 as a Junior Engineer in a local municipality in Pakistan having completed a Higher Diploma in Civil Engineering. During this job I was able to complete a Bachelor (Hons) degree in Civil Engineering in 2008. I then moved to London where I completed a Masters in Civil Engineering at the University of East London in 2009. At this time I also worked as a Research Assistant in the Soil Structure Interaction Group at the university, which allowed me to polish my research skills. I then returned to Pakistan and joined Cantonment Board Walton (a local municipal organisation) as Senior Engineer. Two years later (in 2012) I moved to the Sultanate of Oman and worked as a Lecturer in Civil Engineering and Construction Management in a private higher education institution for eight years. In September 2020, I returned to the UK and joined my current employer. I was awarded a PhD in Construction Management from London South Bank University in 2019.

Please describe your role or position within your workplace.
I am a Senior Lecturer in Construction Project Management where I lead and teach a variety of modules from level 4 to level 7 in different programmes including Construction Engineering Management, Quantity Surveying, Building Surveying, and Management in Construction (Civil Engineering). One of my main duties is to deliver quality teaching, assessment, feedback and tutoring to a diverse range of students, to support them in their learning and provide a stimulating learning environment.
I am also required to identify innovative approaches to teaching and learning, using them to inform my personal teaching practice. My current role requires me to develop and supervise students (including research students), particularly those in industrial or professional training, in liaison with local workplace supervisors. I use listening, interpersonal, and pastoral care skills to deal with sensitive issues concerning the student body and provide first-line support as a personal tutor, appreciating the needs of individual students and their circumstances. This helps me to deliver student-centred, and research-informed teaching, ensuring equality, diversity and inclusion in learning and teaching for the improvement of students' satisfaction and engagement. My current role also includes the organisation of local and international field trips that help us to provide national and international exposure to our students that improve their learning experience. I provide effective leadership, particularly in relation to responding to a diverse range of students' needs and modules organisation, utilising project management techniques and other managerial skills.
Research is also an integral component of my current role. This involves conducting research in areas of interest, pursuing publication in international journals and presenting at international conferences. Writing research proposals, seeking funding from internal and external research funding agencies and collaborating on research with other organisations and researchers are some of the main activities of my current role. Apart from this, I am working as an editorial board member and reviewer for different journals, conference proceedings and funding agencies where I review the research papers and research grant applications for their suitability for publication and funding. My research interests include construction management, waste and resource management, construction materials, renewable and sustainable energy, engineering sustainability, construction 4.0 and Higher Education (TNE). I have collaborated with different universities and academics and have published a number of papers in highly reputed research journals and conference proceedings. Some of my key publications can be accessed online at: https://www.webofscience.com/wos/author/record/AAJ-9631-2020   


Can you describe a typical working day?
Usually, my working day starts by reporting to my workplace at 8:30 am. However, each day includes different activities related to teaching, research and meetings. Teaching normally takes place in the classroom, but laboratory experiments are conducted in the relevant laboratory. Apart from regular class hours, each day has specific hours designated for office hours and advising. This time is for the students if they want to see me in relation to academic queries or they want academic advice related to their course or programme. Similarly, I make sure that I have at least three hours for my research-related activities.
Research activities include meeting with collaborators, conducting laboratory experiments to obtain results, reviewing literature, writing research proposals and papers, and revising research papers based on the comments received from the reviewers and editors.
My current role also requires me to work on a number of committees, either as a committee member or chair, meaning I need to attend those meetings. As an approved mentor for the Institution of Civil Engineers (ICE), I need to spare some time to review the progress of the graduate engineers who are working towards membership. As an ICE reviewer, I examine candidates for the ICE membership and professional registration with Engineering Council. I also assess the degree apprentices on their End Point Assessment (EPA) and for the ICE membership.

Are there any particular challenges or unusual aspects to your role?
Academic roles in universities are usually complex and challenging in nature. Students being human are gifted with different levels of abilities, so some students may pick things easily and some of them will struggle. When it comes to teaching and learning, each student becomes important to me as I need to ensure that they get the best learning experience and complete their studies in the required period of time.
Teaching and learning become more challenging when there are struggling students in a class. This means the two things that are priorities for me are that I deliver all the learning outcomes of the module and that all students achieve these outcomes at the required level. I need to find and use innovative teaching methods that can help to meet the requirements of struggling students.
Similarly, I do want to mention research as one of the challenging aspects of my current role. The civil engineering and construction management disciplines are advancing, but this advancement is quite slow when compared to other branches of engineering, which can restrict research opportunities. I therefore need to target key areas where there is a potential for research and then find gaps in knowledge to focus on for that research. Active research collaborations with researchers around the world including the United Kingdom, United States, South Africa, Oman and India have helped me overcome the challenges associated with the research.

What do you find most enjoyable about your job?
Teaching is one of the most enjoyable areas of my job. It gives me real satisfaction when I see the progress of my students and that satisfaction further increases when my students finally graduate and are awarded with their degrees. In a similar way, the ultimate satisfaction from successfully leading the research team on a specific project comes when the project is accomplished. I feel proud when I see my research papers published in renowned journals, particularly when my name is on the top of the authors list.

Is there a great professional achievement or high-profile accomplishment that you would like to tell us about?
The Covid-19 pandemic has affected the whole world, however, the impact on the construction industry and its workers has been terrible. Construction as a physically demanding industry has no alternatives to keep the wheel going and thus it has affected a great number of construction workers, particularly in the Arab Gulf region where more than 90% of the construction workers are overseas workers from developing countries. In most cases, the whole family depend on the earnings of these workers but when they have no work they are not paid. Therefore, the pandemic has not only affected these workers but also their families back at home. My main contribution during this period was to investigate the impact of Covid-19 on the construction industry and its workers, and to develop guidelines so that work on construction sites can continue, reducing the impact on construction organisations and their workers. This piece of research was recently published in the International Journal of Service Science, Management, Engineering, and Technology. Considering the importance of this research, the publisher decided to provide free access to everyone and the paper can be accessed online at: https://www.igi-global.com/pdf.aspx?tid=273617&ptid=270781&ctid=4&oa=true&isxn=9781799884385   

What contributed to your decision to become professionally registered?
After graduating I realised that being a Graduate Engineer and being a Chartered Engineer (CEng) are significantly different from each other and I believe that to call yourself an engineer you should be recognised by an international professional engineering body. This forced me to research which organisation and which professional title I should pursue. I decided that the CEng title would be most appropriate for me because I had graduated from a UK university and the title is recognised worldwide.
I became a Graduate Member of ICE in 2010 and the process towards CEng registration was very straightforward. I was able to complete my Initial Professional Development (IPD) in late 2014 and had my Professional Review Interview in late 2016.
The process took seven years after completing my Masters degree. I used my industry, teaching, research and leadership experience to satisfy the requirements of registration. For the assessment, it takes time to make sure you have satisfied all the requirements for CEng registration. I mapped out my experience against each attribute to demonstrate that I met the required level of competence and commitment.

In what ways has registration benefitted your career?
CEng registration is a great achievement in my career. It recognises my academic qualifications and my experience and has allowed me to add another professional qualification to my CV, making me more desirable to employers.

How does your employer benefit from your professional registration?
In the engineering industry professional registration is very important, so becoming a CEng benefits my employer as well. By having professionally registered staff, my employer can demonstrate to industry partners that its staff are committed to keeping their knowledge, understanding and skills up to date.

Is there any advice you would pass on to someone considering professional registration?
My advice to all professionals working in the engineering industry is to pursue registration through the most relevant professional engineering institution for them. There are many different pathways available to satisfy the academic requirement if your degree is not accredited. Engineers with extensive experience in the industry can use this to satisfy the academic requirement if they don't have a degree. Overseas experience is recognised as there is no requirement for CEng registration to have experience of working in the UK. There are many routes available, and your institution will also support you.

Where do you see yourself in your career in five years' time or what are your future ambitions?
My future goals include to pursue Fellowship with ICE, aiming to achieve that in the next three years or before I reach forty five. I also aim to achieve the next academic rank (Associate Professor) in the next five years and to expand my research network, secure research grants and produce high impact journal papers.

Outside work, is there any activity you enjoy doing in your spare time that relates to engineering? For example, do you participate in mentoring, volunteering or membership of other engineering groups?
I am an approved mentor for ICE and support graduate engineers around the world to become professionally registered engineers. As a Science, Technology, Engineering and Maths (STEM) Ambassador, I visit local schools and encourage the younger generation to pursue higher education and a career in the area of built environment. To motivate these students towards Civil Engineering and Construction Management, I bring examples from my own international experience to give them a flavour of how interesting these disciplines are, what their role will look like when they are part of a team working on a complex housing or infrastructure project.  
I often discuss buildings and roads with my nine year old daughter and six year son, to enhance their understanding and develop their interest in engineering. However, sometimes they ask questions and I struggle to find appropriate answers that they can understand. It is always difficult to find the best answer to their question, considering their age and level of understanding. Such discussion is always enjoyed by me and my family.

Do you identify as disabled, or as a member of a minority or under-represented group? Would you like to comment on what impact or influence you feel this has had upon your career?
While engineering is a great profession where employment opportunities are comparatively more than other disciplines, there are still issues that are being faced by minority ethnic groups. One of these issues is the local and cross border recognition. There has been  great progress on the mobility and recognition of engineers where different mutual, bilateral and international agreements are in place, however, engineers from minority ethnics in some countries are still facing recognition issues and thus despite having a qualification in engineering, they are not allowed to practice engineering. I am very keen to work on such issues and remove discrimination in recognition of engineers both locally and internationally by increasing the capacities of professional bodies.