EUR ING Professor Spyros Hirdaris MSc PhD CEng FRINA MSNAME MIMechE MTCG
Published: 13/12/2022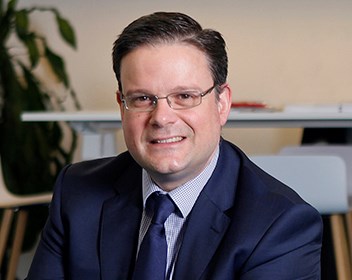 Education and qualifications:
PhD Naval Architecture, University of Southampton  
MSc Mechanical Engineering, Swansea University
Job title:
Associate Professor – Maritime Safety
Employer:
Department of Mechanical Engineering, Marine Technology Group, Aalto University, Finland
What inspired you to become an engineer or pointed you towards an engineering career?
Coming from a family with a strong shipping and maritime tradition I always wanted to know more about the science of ships and their systems; balancing theory with practice. Since this is at the heart of the engineering profession, the choice for me was obvious.
Please describe your role or position within your workplace.
At present I am Associate Professor of Maritime Safety at Aalto University. My job includes a balance of education with research and societal service. I primarily teach ship dynamics and principles of naval architecture. I also head a research team which focuses on deterministic and risk-based concepts that affect safety in ship design and operations. A significant part of my efforts focuses on pedagogics and research funding.
Over the years I have held positions of responsibility in both academia and industry. I completed my degree at Swansea University in 1998 and my first industrial job was with a noise vibration consultancy operating at the university's Swansea Centre for Improvement and Innovation (SCII). After working for them for a year I moved on to the University of Southampton to pursue my PhD on Maritime Technology. During this time I had the opportunity to work on yearly placements at a small ship design consultancy company at Romsey and the British Maritime Technology Limited (BMT) offices at Ocean Village (Southampton). From 2003 – 2004 I enjoyed a brief career with the Hellenic Navy. I spent half of my time on a modern Landing Ship, Tank (LST) sailing the South East Mediterranean and the Hellenic shipyards. July 2004 found me back in London. I joined Lloyd's Register and worked for them internationally (South Korea, UK, Poland and indirectly Greece and China) in support of their research, development consultancy and marine construction activities. During this time I interacted with many maritime industry stakeholders (ship owners, manufacturers, technology providers) and universities.
Can you describe a typical working day?
In principle there is nothing like a typical day but I tend to split my time between administration (10%), teaching (30%) and research (60%). Normally I do some exercise in the early morning and I am in the office at about 8:00am. My day at the office starts with a cup of coffee, checking my emails and briefly reviewing the daily actions which can include meetings with advisees, teaching and management meetings. I am a thinker and I try to develop thinkers that challenge the known and question the unknown.
I believe that good teaching is the backbone to high-quality research. Therefore, I spend 30% of my time to constructively improve the way I teach using state-of-the-art Information Technology (IT) and deep learning methods. Covid-19 has reinforced the importance of online flipped learning.
I am passionate about applying for new research projects and most importantly delivering high quality results from my research. So, 60% of my time goes to managing projects, writing up research proposals, papers, and most importantly conceptualising solutions together with my research team.
As part of this I put a lot of effort into encouraging my students to focus on fundamental research that can help us develop practical solutions that make ships safe and sustainable. For example, currently we are trying to develop new risk models with potential application to new-build and existing ships that may be subject to collision and grounding events leading to serious flooding. I hope that our approach for risk containment and control will lead to proposals for the revision of relevant International Maritime Organisation (IMO) regulations for passenger ships. I also work on the development of advanced fluid structure interaction solutions that can help mitigate better the dynamic behaviour of intact and damaged ships in waves. In this research I use both existing technology (eg Computational fluid dynamics (CFD) and Finite element analysis (FEA) methods) and emerging technologies such as big data analytics.
Are there any particular challenges or unusual aspects to your role?
In my line of work, developing people at an early career stage is an important aspect, and the balance between teaching and research is a key factor of success. Publishing in high impact journals is always a priority, but I try to make sure that I work within my job holistically and do not forget that what we do has a strong social responsibility. I also like doing research that 'matters' and promotes real impact. I like to keep good contacts with industry and promote collaboration between industry and academia, and I also like delivering results.
What do you find most enjoyable about your job?
Being among young people is energising. You can shape them and usually they are very pure in spirit so their intentions are honest and passionate. I am results-focused - I like 'thinking outside the box' and forming concepts that are radical, practical and can deliver good medium- to long-term results.
Is there a great professional achievement or high-profile accomplishment that you would like to tell us about?
My humble nature suggests that a comment of such nature should preferably come from others rather than myself.
What contributed to your decision to become professionally registered?
Professional registration is an essential attribute for a successful career in engineering and technology. My professors at university and my previous employers always promoted the idea and I considered it a priority.
In what ways has registration benefitted your career?
It gives professional recognition, helps me to keep up with developments in the profession and promotes engineering in society.
How does your employer benefit from your professional registration?
In Finland it helps with the university's reputation and inspires young people to be good engineers. The benefits in Finland are mostly qualitative and the reception of Chartered Engineer (CEng) status is similar in countries like South Korea and Greece. In the UK, CEng and Incorporated Engineer (IEng) status links up academic and professional status and raises the profile of employers and good universities. It is difficult to embed this culture equally in all countries as the level of recognition of professional qualifications may vary and each country has a different professional development history. They entered the industrial revolution at different times and developed in different ways.
Is there any advice you would pass on to someone considering professional registration?
For sure, it is something to consider. It helps to open up horizons and gives the opportunity to develop throughout your career. Professional registration offers assurance to our employers and society of our competence as engineers.
Where do you see yourself in your career in five years' time or what are your future ambitions?
I am ambitious but I have learned the hard way not to have plans… Let us see how it goes…. We live in changing and challenging times so planning ahead is good as long as we are prepared to ''expect the unexpected''.
Outside work, is there any activity you enjoy doing in your spare time that relates to engineering? For example, do you participate in mentoring, volunteering or membership of other engineering groups?
I am a member of the Technical Chamber of Greece (TEE-TCG) and through them I achieved my European Federation of National Engineering Associations (FEANI) registration, Eur Ing. I am also a member of the United States' Society of Naval Architects/Marine Engineers (SNAME). We have established a new student section for SNAME at Aalto University.
In the UK I am a CEng through the Royal Institution of Naval Architects (RINA) but also act as Associate Editor of the Proceedings of the Institution of Mechanical Engineers (IMechE), Part M: Journal of Engineering for the Maritime Environment.
Do you identify as disabled, or as a member of a minority or under-represented group? Would you like to comment on what impact or influence you feel this has had upon your career?
I am from Greece and have worked at home and internationally. Over the years there have been some challenges, but I am grateful for the opportunities I was given to develop and contribute. I am a strong believer in equal opportunities and stand firmly against stereotypes. I try to apply this in my daily work.