EUR ING. Lakmal Senanayake MPhil MSc MCGI GCGI CEng CITP CMgr IntPE IEng (SL) FIET FBCS MCMI MIIE (SL)
Published: 30/07/2021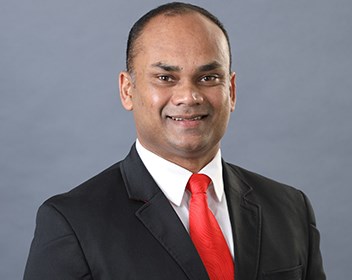 Education and qualifications:
PhD (reading) in Computer, Information Sciences and Digital Forensics - Auckland University of Technology, New Zealand
MPhil (Hons -1st Class) in Computer, Information Sciences and Digital Forensics - Auckland University of Technology, New Zealand
MSc (Merit ) in Professional Engineering and Technology – London Metropolitan University UK
MCGI Membership in Electrical Engineering – City & Guilds London UK
GCGI Graduate ship in Electrical & Electronic Engineering – City & Guilds London UK
Full Technological Diploma in Electrical & Electronic Engineering – City & Guilds London UK
Certification of CISCO UCS Test Drive for Technical Decision Makers
Certification of VMware vSphere Installation, Configuration and Management
Job title:
Assistant General Manager – IT
Employer:
National Savings Bank (NSB), Sri Lanka
What inspired you to become an engineer or pointed you towards an engineering career?
My childhood fascinations, back in the late 1980s were as simple as making small scale circuits, installing and uninstalling electronic devices at home to do my own experiments. This surely sounds a little unusual from an ordinary kid. The first memory I have is making a transistor switching circuit (using B324 transistors, 220uF condensers, 22K resisters) at the age of nine.
I worked on my passion through making creative pieces of circuits, which gradually drove me through a journey to be an engineering professional.
One day becoming a Fellow of the Royal Academy of Engineering (RAEng) became my dream and this dream set me on this journey to become who I am today.
Please describe your role or position within your workplace.
My role in the workplace is particularly complex in terms of its scope. The role has both a large technical component in terms of skill, knowledge and experience and a business focus in terms of people and resource management (including technical, planning, budget management, strategy and communication).
I lead a team of approximately 60 system engineers, in highly technical roles that require a degree and technical certification.
I am also responsible for ensuring the IT systems and solutions provide long term benefits to the bank, as I am the final decision-maker in identifying the best IT systems and technologies and the vendors to fulfil them. I also lead IT system project evaluations and projects' final supervision.
I have designed and implemented innovative solutions for our business continuity and carried out solution verification by working closely with multiple vendors and technologies.
I am directly responsible for the main critical IT operation of the bank (Systems Architecture, ATMs, network, data centre operations, electronics and electrical communication), which leads to a smooth operation in the network of branches. The island-wide network comprises of 4,000+ service points including branches, postal banks units, ATMs, NSB iSaver agents and an international network of corresponding banks as well as agents for serving approximately 15 million customers.
I directly engage in developing and building the strategic IT road map and in maximising return on investment (ROI) in IT, which has a direct impact on the bank's overall strategic business objectives and its bottom line.
Can you describe a typical working day?
A typical working day is spent addressing critical IT system requirements for the bank's day-to-day operations, analysing the system logs and programs for decision making, which includes creating various statistical plots throughout the day to derive conclusions from them. All systems require compliance to CBSL-Baseline Security Standards, Payment Card Industry Data Security Standards (PCI-DSS), ISO/IEC 27001 and Uptime Institute Tier 3 Certification standards. Further I lead my team for maintenance of these standards without any down time.
I maintain a close relationship with several multinational organizations, namely IBM, DELL, Oracle, HP, VMware, Microsoft, AIX, Linux, Cisco, APC & Riello for matters related to technical and managerial aspects as I am totally responsible for the bank's IT system architecture operation. This operation should run smoothly with no down time to ensure smooth operation of the network of service points which are over 4000 in number, touching 15 million client accounts.
I direct and lead my system engineers to run and maintain mission-critical systems. My main technical responsibility is maintenance of the system operation without any point of failure, since one tiny system failure will be effected to millions of Sri Lankan Rupees in financial losses. Therefore, I have introduced and utilise several system tools to minimise down time, analyse system performance, verify security alerts, maintain the standards and manage the latest patches. On my recommendation, my team utilizes a series of specialist tools to ensure our systems achieve optimum performance which maximises production, as well as improving quality and output.
Throughout the day, I organise and plan multiple meetings, some remotely with key vendors (including multinational companies such IBM, HP, Dell, VMware), follow up the progress reviews for system projects and give solutions to rectify issues.
I have discussions with the CIO and CEO and the steering committee on critical decisions, looking at how to enhance friends of production (ie make an impact on the items that improve the value of a company) and reduce enemies of production (ie make an impact on the items that reduce the value of a company).
I also spend time with my team members and also those who do not directly report to me, but who are instrumental in the projects that I drive, to identify their concerns, requirements and limitations, to ensure teams are motivated and driven towards their ultimate objective.
Are there any particular challenges or unusual aspects to your role?
There are a range of challenges to my role, a number of which are specific to the sector, such as cyber-security issues in banking, challenges in virtual and non-banking migrations, challenges of electronic payment systems and in optimising client experience while managing the cost factor.
Additionally I have to keep all systems up and running, manage all versions and keep patches up to date according to the industry standards such as CBSL-Baseline Security Standard, Payment Card Industry Data Security Standard (PCI-DSS), ISO/IEC 27001, Uptime Institute Tier 3 Certification standards , Central bank guidelines, Mock runs and POC runs, guidelines of the professional institutions such as the Institute of Engineering and Technology (IET) , The Chartered Institute for IT (BCS) and The National Cyber Security Centre (UK).
I have found that industry best practice, professional workshops from IET, BCS, and the methodologies and analysis carried out during my MPhil, including the references cited for both my MPhil and my PhD, have been of immense use in managing the above challenges.
What do you find most enjoyable about your job?
I enjoy knowing that my work provides mission-critical support to banking systems across the island, with more than 4,000 service points. It is satisfying to hold a leadership role in the bank that enables me to serve a customer base of around 15 million people.
As a person who was fortunate to benefit from Sri Lanka's free education system for primary education, I enjoy being able to give back to my country. My professional and higher qualifications, knowledge and skill means I can also contribute to the engineering and technology industry in a professional manner both nationally and internationally.
Is there a great professional achievement or high-profile accomplishment that you would like to tell us about?
I am humbly proud of all the professional achievements I have made so far in my career, including the professional recognition of being a European Engineer (EUR ING), International Professional Engineer (IntPE), Chartered Engineer (CEng), Chartered Manager (CMgr), Chartered IT Professional (CITP) and Incorporated Engineer (IEng). I am also a Fellow of IET and the BCS, as well as the Institution of Incorporated Engineers, Sri Lanka (IIESL).
I also consider my work as an International Professional Registration Advisor, assessor and a committee member in multiple institutions as a privilege, that has enabled me to contribute to the industry. I was very pleased to have the quality of my work as a postgraduate recognised by Dean's Award for Excellence in Postgraduate Study, from the Auckland University of Technology, New Zealand.
What contributed to your decision to become professionally registered?
In 1998 I got the City and Guilds (C&G) Member Registration booklet, which I still have, with the profiles and the designatory letters of its members. It made me resolve to drive my professional career.
First I became professionally registered with the Engineering Council in 2001 as an Engineering Technician (EngTech), then I became an Incorporated Engineer (IEng) in 2003, before achieving Chartered Engineer (CEng) status in 2009. I went on to be registered as a European Engineer (EUR ING) in 2010, then an International Professional Engineer (IntPE) in 2014.
Outside engineering, I became a Chartered IT Professional in 2008 and qualified as a Chartered Manager in 2014. The standards of these professional registrations direct me in my career every day.   
In what ways has registration benefitted your career?
I value the recognition in the local and international Engineering fraternity. The benefits of becoming a chartered professional are many and vary for each day's responsibility and each speciality.
Further, the registrations have been an added value for my career so far, giving an enhanced level of industry recognition and acceptance.
Apart from the benefits, my professional registrations have vested on me the responsibility to operate within regulatory and ethical frameworks. Professional registration shapes and reshapes a person and young engineers aspiring to registration should consider this fact seriously.    
Additionally, my professional registration helped me to get international professional roles such as Approved Chartered Assessor, Fellow Assessor, International Professional Registration Advisor, CPD Advisor Academic Accreditor, Skill Editor & Reviewer, Council Member, Executive Committee Member, among others.
How does your employer benefit from your professional registration?
I often chair technical meetings and provide technical evaluations of tenders, with industry leaders and executive-level professionals. Therefore my professional registrations add value to the bank and enhance confidence in and quality of the end result of my work, as an ambassador of the bank.
I have a higher recognition when I'm dealing with parties outside my industry to get the best solutions for the bank. Further, regularly updated knowledge on global trends and threats has been an advantage for improving the quality of decisions made by my employer.
Is there any advice you would pass on to someone considering professional registration?
I would advise young professionals to first visualise the change a professional registration would create in your life. The change of mindset, the empowerment, the calibre of people with whom you can associate are just a few valuable additions that can make a significant difference to your career. It is important to be committed and to continuously improve to achieve the status you aspire to reach. You can build a professional network that will directly enhance your career and professional registration will help you to think out of the box and find a lot of opportunity in life.
Where do you see yourself in your career in five years' time or what are your future ambitions?
I aim to obtain a first class doctorate by completing my PhD research into digital forensics and cybercrime awareness of phishing attacks in virtual banking, with my thesis: "Countermeasures framework for virtual banking system users: Response to exploitation in times of crisis", and to become a Fellow of the RAEng.
Outside work, is there any activity you enjoy doing in your spare time that relates to engineering? For example, do you participate in mentoring, volunteering or membership of other engineering groups?
I participate in the following activities:
Approved Chartered Assessor - Engineering Council, Science Council, BCS
Fellow Assessor; Assessor Panelist B & C – Computer, Software, ICT, Electronic, Control and Semiconductor; International Professional Registration Advisor; Continuing Professional Development CPD Advisor: Academic Accreditor – IET
Skill Editor & Reviewer - SFIA plus UK, BCS Learning and Development Limited UK
Council Member - BCS
Committee Member - BCS Learning & Development Specialist Group
Executive Committee Member - Sri Lanka Networks of BCS, CMI and IET
Assistant Secretary – CMI, Sri Lanka Network
Judge BCS National Best Quality ICT Awards
Judge Domain.lk     
Working out, cycling and drumming are few of my most preferred spare time activities.
I do still love and enjoy working on electronic circuits which I thoroughly enjoyed as a kid too.