EUR ING Christopher Northey BEng (Hons) FCGI MCGI CEng IntPE (UK) RP FRSPH FIET FCIBSE FSoPHE FCIPHE FIDHEE FIHEEM FCIWEM
Published: 21/10/2021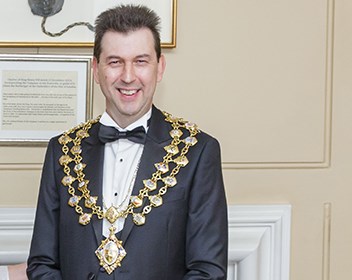 Education and qualifications:
BEng (Hons) in Building Services Engineering Design & Management, University of Reading
BTEC Higher National Certificate in Building Studies, Cornwall College
BTEC National Certificate in Building Studies, Cornwall College
Plumbing Apprenticeship, JIB PMES
City & Guilds: Advanced Craft Certificate in Plumbing, Cornwall College
City & Guilds: Craft Certificate in Plumbing, Cornwall College
Job title:
Technical Director
Employer
Waterman Group Plc
What inspired you to become an engineer or pointed you towards an engineering career?
Having done very well in my college studies, which started with the practical side of the industry (plumbing and heating installation work) then led into the design side of engineering systems, I wanted to learn much more about the design of plumbing and heating systems. I felt that it was very important to understand why systems were installed the way they were, and the technical side of the design process was an important aspect for me at that time during the early part of my career.
My career pathway has been influenced by very supportive mentors such as college lecturers and industry colleagues, who encouraged me to continue my career aspirations and reach my full potential within the engineering industry. Although it took many years of dedication, I am very proud to have forged a path from a plumbing apprentice to a Chartered Engineer (CEng).
I would hope that my example of dedication and career development will not only raise the profile of the engineering industry but will also inspire others to strive to achieve their own personal goals during their career. I have learned a lot from others in the past and now actively pass on my knowledge and experiences to the next generation of engineers and designers.
Please describe your role or position within your workplace.
I am currently a Technical Director at Waterman Group Plc in London, responsible for leading the Centre of Excellence for Public Heath Engineering in the UK within the company. I provide extensive public health and fire engineering services, strategic advice and support to all projects within the business. I am also a key strategic leader within the organisation, embedding key policies and strategies to ensure business growth, development and expertise. Additionally I am responsible for bidding for new work within the business along with financial management of the Public Health Engineering Centre of Excellence.
My role includes engineering, management, environmental and architectural design as well as urban design and planning. I have extensive experience working on residential, retail, mixed use, commercial, educational, historical, stadium, healthcare and pharmaceutical developments. I also manage positive stakeholder relationships across all of the projects that I work on. My expertise is associated with water, drainage, firefighting, gas and heating engineering services relating to buildings.
Can you describe a typical working day?
My overall day-to-day responsibilities include design and management activities, which consist of managing the feasibility, outline/scheme design, detailed design and production information on a variety of large-scale commercial, stadium and residential projects.
On any given day I can undertake and oversee a large range of tasks across a number of projects. These activities include undertaking management and technical engineering roles, which can range from the reviewing and checking of drawings for content and quality to assembling financial fee bids within the business. I also co-ordinate input from other members of staff and report any conflicts around engineering workload to the Managing Director, including assessing staffing and project programme requirements. I am also responsible for the financial control of the Public Health Engineering team within the business.
I can also carry out inspection and compliance work, such as site inspections and surveys, defects inspections, witness testing of commissioned engineering services, condition surveys of engineering services installations, factory witness testing, the preparation of Practical Completion Certificates (PCC) and ensuring company Quality Assurance (QA) procedures are followed.
Are there any particular challenges or unusual aspects to your role?
The most important challenge that I face as a public health Technical Director is to improve the overall health of individual people, local communities, public and private sector organisations, small and large clients. I do this through promoting the importance of good design, installation and maintenance practice in relation to public health engineering services.
My role is a demanding one with many responsibilities; as well as producing my own work I also oversee the work of other members of staff. This may mean that I work longer hours during the week to achieve all of my objectives, but I don't find it a problem, as I know that being a Technical Director comes with great responsibility along with sheer hard work, in order to stay at the top of my profession.
As a public health Technical Director, I contribute greatly to social welfare, with particular regard to facilities such as water, drainage, gas and fire engineering systems in a large range of applications. This important input is long-established and essential to the ongoing health and wellbeing of the population, in terms of providing clean drinking water supplies and adequate sanitation and drainage facilities. Over the last few years, water conservation has also grown in importance, forming an important part of the drive for sustainability in homes and workplaces. The challenges I face as a public health Technical Director have never been more demanding.
What do you find most enjoyable about your job?
I am very fortunate to enjoy what I do and am completely satisfied in my everyday work as a public health Technical Director. I am constantly challenged to manage high quality designs for many projects and remain motivated to ensure the best solution is provided every time. My job satisfaction is also enhanced with the large number and wide variety of the type of jobs that I work on at any one time.
A public health Technical Director can be involved in the management of every type of building you can think of during their career, from schools to stadiums. The jobs can also vary in size, complexity and location, both within the UK and internationally. The reason is basically because public health engineering affects us all! Clean drinking water supplies and adequate drainage systems are the most important basic provisions we all need to ensure human health and wellbeing.
Is there a great professional achievement or high-profile accomplishment that you would like to tell us about?
If I had to choose one career achievement that I am most proud of, that would be being presented with the Prince Philip Gold Medal at Buckingham Palace in 2011, for the 'outstanding leadership, ability and enthusiasm' shown throughout my career in the engineering industry. A fantastic day that my family and I will never forget.
I'm proud to have achieved a number of high-profile accomplishments during my career. From 2019-2020 I was elected as the National President of the Chartered Institute of Plumbing & Heating Engineering (CIPHE), and in 2018 I became a Trustee of The Rumford Club 70th Anniversary Legacy Board. I have also served as President of the Institute of Healthcare Engineering & Estate Management (IHEEM) from 2014-2016 and as the second Chairman of the Society of Public Health Engineers (SoPHE) from 2010-2015, having been one of the Founding Members back in 2002.
I was awarded the Fellowship of City and Guilds of London Institute in 2017, for my 'outstanding contribution to the engineering sector and my promotion of vocational education' and this reflects the importance of City and Guilds across my career. Having been awarded the Institute of Plumbing (IOP) Osma Award, as the top City & Guilds Advanced Craft Plumbing Student in the South West in 1991, I was then awarded the Lilli Sarah Barber Memorial Gold Medal by The Worshipful Company of Plumbers (TWCP) in 1992, for my selection as the top City & Guilds Advanced Craft Plumbing Student in the UK.
For demonstrating exceptional commitment to engineering through my academic and professional development, I was awarded the Institution of Engineering and Technology's (IET) Career Achievement Award in 2004, followed by the Silver Medal for Services to the Institution by the Chartered Institution of Building Services Engineers (CIBSE) in 2015.
What contributed to your decision to become professionally registered?
I have always strived to achieve the highest standards of technical knowledge and experience during my career, which was achieved by having the support and guidance of many mentors during the different stages of my career development. These mentors saw my potential and I had the great experience of shadowing them and learning from them during my career; I believe this shaped my overall career and gave me the confidence to pursue my own personal professional development goals. Without this invaluable mentoring support, I do not believe that I would have achieved all of my accomplishments in my career so far.
Having worked around many great engineers, it was always important for me to gain professional recognition and a way of achieving this was by applying for professional registration with the Engineering Council.
My first milestone achieved on my path to reach professional recognition was when I achieved Incorporated Engineer (IEng) status in 1999 through the CIPHE. This was a great career achievement for me at that time and I continued my efforts, achieving CEng status in 2006 through CIBSE. I believe this not only enhanced my own professional development but also the industry to which I belong.
In 2007 and 2008 I also achieved European Engineer (EUR ING) and International Professional Engineer (IntPE (UK)) registration through the Engineering Council. These were again important goals for me to obtain in terms of professional recognition beyond the UK.
In what ways has registration benefitted your career?
I believe that there are a number of ways that professional registration has benefited my career, including helping me gain key leadership roles within various consulting engineering companies, enabling me to be recognised as an industry leader within my specialist field of engineering and, more broadly, enabling me to think and act strategically during my professional life.
It shows both my technical and managerial skills to my employer and identifies me as a leader within the organisation, demonstrating my commitment to raising standards within the organisation and helping me gain respect and acknowledgement from other directors.
Professional registration has also benefited me through the achievement of a personal ambition in my own professional development; I hope this has shown others in the industry that they too can achieve professional recognition, particularly young people at the start of their careers. I've enjoyed the opportunity to share my knowledge and experience, helping others achieve their own professional goals.
How does your employer benefit from your professional registration?
Both my present and previous employers benefit from my professional registration as it shows existing and potential new clients that I am professionally qualified within the industry and would be a key asset working on their projects. I can use my professional registration as a benefit to my employers both within and outside the organisation whenever I represent the company, showcasing the skills and accomplishments of its staff members.
It also shows that I have achieved the highest recognised engineering professional registration status within industry and means I can help other less-experienced individuals in their professional development.
Is there any advice you would pass on to someone considering professional registration?
The main piece of advice that I would give to anyone with regards to professional registration is to definitely apply for engineering registration as soon as you feel you have the necessary skills and knowledge that are required by the Engineering Council. This applies equally to all three professional registration titles (EngTech, IEng and CEng). In my opinion all three are as highly important as each other and all show professional engineering competence within the industry. I'd advise considering progressive professional registration if that suits you – this benefited me by getting professional recognition at different stages of my career (first IEng registration in 1999, before going on to CEng registration in 2006).
Another piece of advice I would give is seek out a good mentor who has already achieved professional registration. They can help you immensely as they have gone through the process themselves and can give some clear and precise advice on how to approach the registration process.
There are many career opportunities in this industry, and I would highly recommend to anyone that they should get involved and develop a career of their choice in engineering. I would also hope that the drive, determination and enthusiasm that I have shown during my career will inspire others to also set their own goals, and achieve them, during their own professional careers.
Where do you see yourself in your career in five years' time or what are your future ambitions?
I would see myself continuing to be a director, building more teams of engineers within the organisations I work for, and expand their knowledge and experience of professional development.
I really enjoy passing on my skills to others and I do my best to promote engineering (particularly in my specialist field of public health engineering) as a career, both to apprentices who have just entered the industry and those who are more advanced.
As far as my future aspirations are concerned, I hope to continue to support professional engineering institution (PEI) work, continue to act as a mentor for developing the next generation of engineers, and continue to further develop my own personal design and management skills.
Outside work, is there any activity you enjoy doing in your spare time that relates to engineering? For example, do you participate in mentoring, volunteering or membership of other engineering groups?
I have had the opportunity of giving back to a number of engineering organisations by serving on committees and in elected positions within several PEIs and other industry organisations during my career. These include The Worshipful Company of Plumbers (TWCOP), The Standard Setting Organisation for Building Services Engineering (SummitSkills), Public Health Online Resource for Careers, Skills and Training (PHORCast), the Plumbing and Heating Industry Alliance (PHIA) and acting as both a working party member and judge for CIBSE Construction Skills Teambuild.
I am also an active Liveryman of the Worshipful Company of Plumbers, Immediate Past President of CIPHE, a Professional Review Interviewer for IET, Past President of IHEEM and Past Chairman of SoPHE, and I am currently a Member of the Audit and Remuneration Committee within IHEEM.
I also participate in Engineering Council activities, which involve being a Liaison Officer for PEIs.
I utilise as much spare time as possible to raising the profile of engineering as a career to people considering entering our industry or those who are already working in it. Outside of public health engineering, I am also a champion for vocational education and have worked extensively to promote plumbing apprenticeships as a pathway to becoming a Chartered Engineer.