Emma Burns CEng MCIHT
Published: 30/03/2023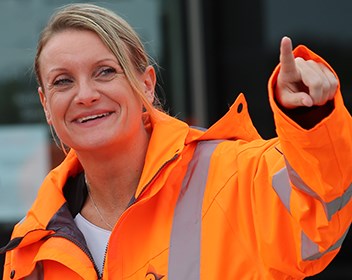 Education and qualifications:
Diploma, Asphalt Technology and Design, University of Derby
SVQ Level 5 Senior Construction Management
NVQ Level 3 Materials Engineering
HNC Civil Engineering, Liverpool John Moores University
Job title:
Operations Manager Enhanced Weathering UK
Employer:
Undo Carbon Ltd
What inspired you to become an engineer or pointed you towards an engineering career?
My dad was a hydraulic and commissioning engineer which gave me an insight into engineering, then after I worked on the 2G contract in Scotland, I became really fascinated by the variety of skills and different aspects that were involved in engineering. It came across as a career which would keep me mentally stimulated as I would be continually learning.
Please describe your role or position within your workplace.
I am currently the Operations Manager for the UK, working for Undo Carbon Ltd. We spread enhanced weathering fines (finely ground volcanic rock) on agreed areas of land which helps capture carbon and improves soil health. Unlike planting a tree, the weathering of the fines transfers atmospheric carbon from the biological cycle into the geological cycle, where the carbon will be removed from the atmosphere for thousands of years.
My role is to build and deliver a programme of works for the operational side of the business. I ensure projects are delivered on budget and assessed and prioritised in accordance with the business's requirements, I work closely with my internal team as well as contractors and land owners to deliver a robust and well executed service. I also bring on new quarries in areas of interest to allow future expansion of demand.
Can you describe a typical working day?
The day usually includes programming and budget managing, risk assessment approvals, problem solving, creating/managing programmes, liaison with land owners, issuing subcontractor work schedules and purchase orders, organising/carrying out scheme handovers, attending pre-start and programme meetings and overseeing site activities. I manage a dedicated team who share their knowledge with landowners on the benefits of the rock dust.
Are there any particular challenges or unusual aspects to your role?
Running a programme that can change at any moment, due to unforeseen issues, is a challenge as you have to try to find solutions. It's also important to get people to communicate. I am a Mental Health First Aider within the business, so need to ensure I can make time for people in need.
What do you find most enjoyable about your job?
I really enjoy the pressure and feel a great deal of satisfaction when things turn out well; when projects are delivered and everything is on the ground – even more so on complex projects. I work with a great team of people who support each other through every level within the business. That also makes you want to work hard and succeed in what you are trying to achieve. I also really enjoy meeting landowners as they help to grow my knowledge of farming.
Is there a great professional achievement or high-profile accomplishment that you would like to tell us about?
Qualifying as a Chartered Engineer (CEng) through the Chartered Institution of Highways & Transportation (CIHT) has been the biggest achievement in my career. It took a year to complete all the stages to achieve Chartered status, and it was a challenging time, but well worth all the hard work. Being a CEng has given me career stability and growth as I am a respected member of a professional organisation. This has also raised my profile in my workplace as well as my career status in general in the industry.
What contributed to your decision to become professionally registered?
I felt it was the best way to have it recognised that I had reached a certain level in my career. To be accredited by a professional institution was a massive high point for me, I was so proud. There is no better way to become recognised in the industry.
In what ways has registration benefitted your career?
Registration has helped me gain promotions in my workplace, by showing my employer I have the skills and knowledge to do my job well. It has also shown other professionals that I have been recognised as being at a certain level in the engineering circle. CIHT have given me help in progressing my career by holding talks that I have gone to and supporting me.  
How does your employer benefit from your professional registration?
It shows the company encourages their employees and is supporting them to become registered. This also looks more professional for the company as it shows they have professionally qualified people working for them at all different levels.
Is there any advice you would pass on to someone considering professional registration?
Don't hesitate, do it.
Where do you see yourself in your career in five years' time or what are your future ambitions?
I would like to become a senior manager and learn more about the business side of what I do. I would also like to manage a bigger team and continue supporting others through their qualifications.
Outside work, is there any activity you enjoy doing in your spare time that relates to engineering? For example, do you participate in mentoring, volunteering or membership of other engineering groups?
I have been assisting others in the company applying for Engineering Technician (EngTech) and Incorporated Engineer (IEng) status, and I am a Science, Technology, Engineering and Mathematics (STEM) Ambassador. I am also a Mental Health First Aider at work so carry out sessions when people are in need and help raise awareness through the business. I have started as a reviewer for the CIHT as I feel it's important to give something back.