Dr Larissa Suzuki, BSc MPhil PhD CEng FRSA MIET AFHEA
Published: 31/08/2022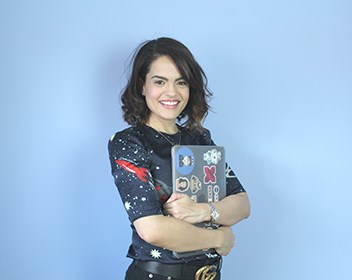 Education and qualifications:
BSc Computer Science – University Barao de Maua, Brazil
MPhil Electrical Engineering – University of Sao Paulo, Brazil
PhD Computer Science – UCL (Host)
Job title:
Technical Director, Google Office of the CTO
Employer:
Google
What inspired you to become an engineer or pointed you towards an engineering career?
Since I was a little child I have been fascinated with things that move or change state, like machines, cars and electronics equipment. My main curiosity when I was a child was to understand the mystery behind those things, what made them behave the way they did, and how I could make them do what I wanted them to do instead.
Please describe your role or position within your workplace.
I am a member of the Office of the CTO (a team made up of senior Google technology experts and former enterprise Chief Technology Officers (CTO)) working on extending human knowledge of Artificial Intelligence (AI), smart cities and sustainability, federated learning and interplanetary internet communications. I work at the intersection of engineering, product and innovation, ensuring we can design technologies which will cater for the future of engineering.
Can you describe a typical working day?
Along with others in the Google customer engineering teams, I develop new solution initiatives and the materials to support them, working with a broad cross-functional group of stakeholders to help define solutions, use cases and their growth strategy. I ensure technical and commercial readiness of these solutions, including assets to enable the go-to-market teams, and provide UK-centric field feedback to Product and Engineering teams to help shape product direction. My continuing academic work is at UCL, where I serve as an Honorary Associate Professor in Computer Science.
Are there any particular challenges or unusual aspects to your role?
AI and Machine Learning are very fast-paced fields, which are being dramatically transformed by new innovations. I need to ensure the company and our customers meet their key performance indicators (KPIs), and recommend new ways for customers to adapt to the challenges facing modern enterprises: scale, speed and user expectations. These are the most critical parts of my work as a Practice Lead. Also, Google customers must have access to the latest state-of-the-art technology from Google as well as the expert support needed to implement, use and maintain those technologies. Those are also very challenging tasks to accomplish given the scale of the projects, as well as the large ecosystem of different types of machine learning tools, algorithms, solutions and architectures.
What do you find most enjoyable about your job?
Working with real problems and projects, ensuring we can assess how our AI and Machine Learning tools are performing for customers, and coming up with new ideas to make our products much better is very exciting. AI and ML are fast paced and state-of-the-art. New technologies, methods and algorithms emerge every day. Working with Google teams dedicated to helping our customers and developers see the benefits of our AI technologies innovations come to life, is something that brings me joy.
Is there a great professional achievement or high-profile accomplishment that you would like to tell us about?
Throughout my career I have received numerous awards and honours for my contribution to engineering and international science. I have dedicated my career to becoming a world-class professional with a rigorous devotion to excellence. I have two great achievements to highlight: becoming the Women's Engineering Society (WES) Young Woman Engineer of the Year in 2018 and a Chartered Engineer (CEng) in 2019. These two achievements are a recognition of my competence throughout over 15 years of career experience. Most importantly these also demonstrate that I have conducted my work in a way that demonstrates strong professional standards.
What contributed to your decision to become professionally registered?
A CEng should be able to develop answers to engineering problems using new or existing technologies in creative and innovative ways. One of the main reasons I wanted to have my professional registration – besides the benefits it brings to any engineer in terms of recognition – was to have my competence independently assessed and my credentials verified.
In what ways has registration benefitted your career?
It has demonstrated my engineering competence to fellow engineers and employers. It has also equipped me with the confidence to be forthright in my views and to be able to challenge at the highest level – to ensure the right things get done. This is highlighted in one of the four fundamental principles in the Statement of Ethical Principles, 'Accuracy and rigour'. From a personal point of view, it has helped me very much with my commitment to Continuous Professional Development (CPD), which is very important for any engineer.
How does your employer benefit from your professional registration?
My employer benefits from employing an engineer who is devoted to excellence, who understands and adheres to the values, professional commitment and code of conduct required of those representing the engineering profession.
Is there any advice you would pass on to someone considering professional registration?
Do not be hesitant to apply because of a fear of failing. One of the factors that contributed to my decision to apply for professional registration is that even if you are initially unsuccessful in the professional review interview, the panel of assessors can provide guidance on areas to improve, which I find quite helpful.
Where do you see yourself in your career in five years' time or what are your future ambitions?
I care deeply about the future of AI, technology and smart cities, and I have a firm belief in the need for increasing ethical technology solutions, mentoring young people, and enabling people of all kinds to fulfil their potential in the technology sector. In the next five years I plan to continue contributing to the engineering sector through Google, including gaining more knowledge that will help me to grow in the company, and help transfer knowledge from academic research to corporate practice and vice versa. I will also continue to contribute to open source projects and international science, delivering innovative technologies and innovations for the benefit of humankind.
Do you participate in any other career-related activities, such as mentoring, volunteering or membership of other engineering groups?
Since 2006, I have been promoting engineering and technology for people of all kinds, bringing the joy of computer programming and engineering to women, minorities and young people. I have been a committee member of the Grace Hopper Conference since 2014, and I am an elected member of the Technical and Professional Networks Communities Committee of the Institution of Engineering and Technology (IET). I am also a judge and/or reviewer of the Association for Computing Machinery (ACM) Global Research Competition, Royal Academy of Engineering (RAEng) Impact Grants Project Applications awards; and of the Institute of Electrical and Electronics Engineers (IEEE) and Springer journals. I also chair the Tech London Advocates Smart Cities, and the R&D category of the IET Innovation Awards.
Outside work, is there any activity you enjoy doing in your spare time that relates to engineering?
I am passionate about using AI for the benefit of humankind regardless of the field of industry. I get involved as much as I can as a contributor to open source code, academic projects in medicine and on smart cities. At home, I love building robots and doing fun AI experiments. I have Arduino, Lego Mindstorm EV3 and Raspberry Pi robots, and some have AI-powered vision and sensing capabilities. I am a gamer too and at the moment I am working on a Raspberry Pi arcade system to play old games I used to play in the Japanese consoles I had when I was a child. All these "outside work" activities help my professional life too, given that I work with hardware, software, and AI.