Dr Davannendran Chandran PhD CEng CEnv CSci IntPE (UK) MIMechE MIMMM FHEA
Published: 17/07/2020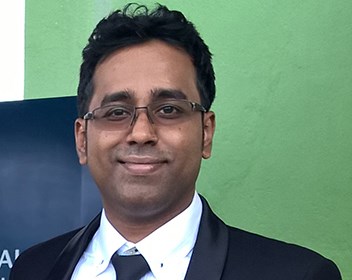 Education and qualifications:
PhD in Mechanical Engineering, University of Nottingham
BEng (Hons) Mechanical Engineering, University of Nottingham
Job title:
Senior Engineer - Mechanical and Piping
Employer:
BASF PETRONAS Chemicals, Malaysia
What inspired you to become an engineer or pointed you towards an engineering career?
My admiration of the use of engineering knowledge by Formula One engineers to design and also continuously develop fast and reliable race cars throughout the season inspired me to pursue Mechanical Engineering.
Please describe your role or position within your workplace.
As a Senior Mechanical and Piping Engineer at BASF PETRONAS Chemicals, I am responsible for ensuring the suitable design of mechanical static and rotating, as well as piping equipment, to meet project requirements in accordance with API, ISO, ASME and other standards. I also lead the root cause failure analysis (RCFA) for identified bad actors in the chemical plant and I work with fellow engineers to develop solutions to overcome them.
Can you describe a typical working day?
Being part of the project engineering team, a typical working day is mostly executing pre-planned tasks along with any urgent tasks that arise.  My tasks include cost estimation (CE), preparing documents for invitation to bid (ITB) and performing technical bid evaluation (TBE). I also review the design of mechanical equipment, process and instrumentation diagram (P&ID), isometric drawing and material take off (MTO). I have regular discussions with engineers working in other disciplines (process, instrumentation and structure) concerning the project and RCFA, conversations with the designer concerning pipe routing, as well as meetings with stakeholders.
Are there any particular challenges or unusual aspects to your role?
For project engineering, meeting the agreed delivery duration while being involved in several projects/management of changes (MOCs) concurrently is a major challenge; even more so when unexpected challenges arise affecting the progress of the assigned tasks. For this, besides engineering knowledge, communication and time management skills are essential to manage the unexpected challenges. The training I underwent during my PhD such as technical writing and presentations for journal publications and conferences, as well as scheduling and having the discipline to follow the schedule, assisted me in developing the necessary skills. Hence, having acquired the necessary knowledge and skills (and aiming to continuously improve those), I am able to manage the challenges I face.
What do you find most enjoyable about your job?
The most enjoyable part of my job is when I get to solve complex problems that require in-depth study and critical analysis. This is an additional skillset that I bring to the organisation from my PhD.
Is there a great professional achievement or high-profile accomplishment that you would like to tell us about?
On top of Chartered Engineer (CEng) registration, I also successfully registered as an International Professional Engineer (Int PE), Chartered Environmentalist (CEnv) and Chartered Scientist (CSci) with the Engineering Council, Society for the Environment and The Science Council, respectively. I have experience researching renewable (biodiesel) fuel for use in existing diesel engines - to curb the carcinogenic effect of fossil diesel fuel - and have done in-depth study of biodiesel fuel up to molecular level focusing its effects towards fuel delivery materials. This experience gave me the opportunity to apply for professional registrations in other fields and gaining thesis indeed a great achievement for me.
What contributed to your decision to become professionally registered?
During my undergraduate study, I was made aware that professional registration is recognised as the gold standard of the engineering profession globally. Since then, it has been my aim to attain the required knowledge and understanding (through my academic qualifications) and professional competence through work experience to obtain professional registration.
In what ways has registration benefitted your career?
The professional registration has boosted my confidence in my knowledge and skills in engineering, as well as motivated me to continue learning, which I personally feel is essential to be abreast with advancements in knowledge and technology. In addition, being professionally registered consistently reminds me to be conscious and responsible for my actions and decisions towards the organisation, society and environment as a whole. Registration also aided me to build trust with my superiors in my capability to complete the assigned tasks responsibly and successfully.
How does your employer benefit from your professional registration?
Being professionally registered, my employer benefits from the value I bring to the organisation, especially the responsible use of engineering knowledge, adhering to standards, ethics and safe practices.
Is there any advice you would pass on to someone considering professional registration?
As a practising engineer, professional registration is absolutely necessary to demonstrate that you have indeed acquired the necessary professional competence to perform engineering independently and also shows your commitment towards your profession. So I strongly recommend them to consider it seriously.
Where do you see yourself in your career in five years' time or what are your future ambitions?
I see myself in a more responsible and senior position in the organisation, handling both the technical and management aspects. I am keen to pursue asset management, focusing on the integrity and reliability of equipment for optimised and uninterrupted plant operation.
Do you participate in any other career-related activities, such as mentoring, volunteering or membership of other engineering groups?
I mentor young engineers, especially my students from my tenure as a Mechanical Engineering Lecturer who are currently working in various parts of the world towards gaining their professional registration. I also encourage and provide guidance to my colleagues concerning professional registration.
Outside work, is there any activity you enjoy doing in your spare time that relates to engineering?
I enjoy reviewing research papers submitted to international engineering and science journals, as well as supervising candidates pursuing a PhD or MSc in Engineering. I also actively publish my work in reputable engineering and science journals.