Derek Hamilton BEng CEng MIMechE
Published: 28/10/2020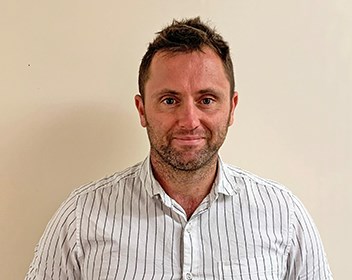 Education and qualifications:
BEng Mechanical – Electronic Systems Engineering, Glasgow Caledonian University
National Examination Board in Occupational Safety and Health (NEBOSH) certified
Job title:
Infrastructure Maintenance Engineer
Employer:
Network Rail
What inspired you to become an engineer or pointed you towards an engineering career?
Initially, living in East Kilbride, I was surrounded by large engineering firms, and a lot of friends who were working in the industry spoke highly of the jobs they were doing and the opportunities available in the field. From here, I started with the intention of studying Electronics Engineering at university. It was at university that my attention was turned to Mechanical Engineering and it was in that field that my interest increased. Following graduation I was keen to apply my knowledge in industry and was focused on becoming an engineer. I found opportunities limited but I sought and finally gained a job with Network Rail in the infrastructure engineering arm at entry level, preferring to understand the business from the ground up.
Please describe your role or position within your workplace.
I head up the Infrastructure Maintenance function for my area in Network Rail and lead a team of four direct reports who each manage their own teams. My key responsibility is applying my engineering and technical knowledge to ensure best performance so that the train operating companies can keep to their timetables. Beyond the core engineering for safety and performance of the infrastructure assets, I also have budget responsibility as well as competence and team development responsibility.
I started work with Network Rail as a labourer and progressed by undertaking operational and technical roles in the company. In 2011 I moved to an engineering position, Assistant Track Maintenance Engineer, until 2016 when I was promoted to Track Maintenance Engineer gaining a further promotion in 2017 to my current role.
Can you describe a typical working day?
Mornings tend to be a look back at the infrastructure failures of the previous day and to discuss the operational impact, learning any lessons from an infrastructure or operational point of view. When everything is going well, my focus is mainly on strategy planning for future years and keeping an eye on the day-to-day running. I focus in the main on asset compliance and progress against the larger projects that my team are delivering against the Capital Expenditure (Capex) order book.
Capex work for my part of the organisation tends to be a series of smaller projects aimed at improving asset performance in track, signalling and lineside assets. Specific highlights have been the renewal of switch panels through the Perth station area, a concept that I, and my then assistant engineer, devised in 2017. This has been delivered over the past three years, extending asset life to an aging layout pending a full rationalisation in future years. My teams working in the Far North of Scotland are delivering longer re-sleeper activities on the line between Dingwall and Kyle of Lochalsh, and in recent years have been identified as the principal track renewal and maintenance organisation, delivering enhancements to the rural lines in the North. Minor Signalling Renewals is an on-going programme of small renewal projects on life expired assets, delivered by the maintenance organisation to improve overall asset reliability. Project specifics in relation to location and time of delivery are made to maintain the operational safety and reliability of the assets and is at the heart of what we are delivering on Scotland's Railway.
Beyond the nuts and bolts of infrastructure, I must manage budgets in line with the fiscal framework of Network Rail and their obligations as a publicly funded organisation. Control of spending and ensuring that money is spent ethically is vital for me and the company. Delivery of Capex projects becomes a source of efficiency within my annual maintenance budget. Team development, through identified competencies and development of future engineers, forms not only part of my Continuing Professional Development (CPD), but also the safety of staff and CPD for the functional engineers and their teams who report to me.
The changeable nature of my role means that the day's plans can change quickly due to severe weather events or infrastructure failures, which makes the juggling act between future strategy and managing the infrastructure in the here and now fascinating.
Are there any particular challenges or unusual aspects to your role?
I work in day-to-day operations and the major challenge is to seamlessly switch from planning and projections to managing infrastructure failures that are causing delays. The changeable nature of my role is as much of a challenge as a source of enjoyment.
What do you find most enjoyable about your job?
The variety of disciplines that I manage have increased my awareness of the demands of each. This has, by virtue of exposing me to other areas of the business, increased my overall railway engineering knowledge. I manage four distinct disciplines and having developed my skills in only two of these, this exposure has been valuable learning, particularly taking an overall railway system-based approach. My focus can change each day and the demands of service can change things again. Beyond the value that I feel I can add, it is unlikely that I can ever get bored in the role I am performing.
Is there a great professional achievement or high-profile accomplishment that you would like to tell us about?
2019 was a big year for my Continuing Professional Development (CPD). I had been working through my application to become a Chartered Engineer (CEng) and had also decided to work towards my National Examination Board in Occupational Safety and Health (NEBOSH) certificates. My CEng application had concluded in the autumn of 2019 and I had moved straight into intensive NEBOSH training. Achieving both professional registration and NEBOSH certification by January 2020 was a great feeling and vindicated my decision to attempt both over the course of the year.
What contributed to your decision to become professionally registered?
Working in an engineering field and having a degree in an engineering subject, I felt that I had accomplished a lot in my early years. In order to challenge myself further I started on my journey towards Chartered Engineer, stepping from Engineering Technician (EngTech) to Incorporated Engineer (IEng) with the Institution of Mechanical Engineers (IMechE). I considered that I needed to become professionally registered in order to rubber stamp my career to date.
In what ways has registration benefitted your career?
It has certainly been evident that it has increased my choices. Through online forums, I get some tentative enquires about my employment status and what the future holds for me, although Network Rail remains a great place to work and I have no interest in leaving at this stage. In the here and now, I have become far more aware of how a professional engineer should conduct themselves, and I would consider that through the various stages of becoming a CEng I have matured more as a person and an employee. The journey through IEng was the biggest step change for me and I found that I began to better understand myself and the reasons for the decisions that I was making at work.
How does your employer benefit from your professional registration?
My mentors from within the company were a great help and that again opened my eyes to some policies and procedures that I was not aware of. I believe that I have become a more mature employee, more aware of the impact of my decisions on the wider business and the part that I play in the company as a whole. Having obtained CEng status, I am now seeking to maintain my CPD record and looking for opportunities to get involved with other aspects of the business, which I didn't necessarily before. As a manager of engineers, I am quick to recommend and offer support to my team in seeking professional registration, which will hopefully benefit Network Rail and the wider engineering community further.
Is there any advice you would pass on to someone considering professional registration?
Do it! There is work to do but the process is more straightforward than you would think and the rewards mean so much more to you as an individual than just letters after your name. The application process alone changed my way of thinking and gave me the confidence to do the right thing in my current role.
The information on my institution's website and support from existing CEngs helped me to understand the application process. My degree meant I already met some of the educational requirements, requiring only a two stage Career Learning Assessment. I realised that my day-to-day engineering role and the decisions that I was making could be used as part of my application. Additional reading was insightful and made me reflect on the job I was doing and the responsibilities that I had.
It was a challenge translating my real-life experience to fill in my application form and the interview portion was daunting initially, however it was conducted in a very friendly manner. I have never wanted an interview to go well as much as my CEng one. Thankfully, I gave a good enough account of myself. Becoming an Infrastructure Maintenance Engineer and registered as a CEng really opened my eyes. It is a great achievement to finally complete the process, although the CPD element will never stop.
Where do you see yourself in your career in five years' time or what are your future ambitions?
A good professional is always looking at the next move, however I am keen to remain an engineer for the time being. I have been employed in maintenance for over 15 years and consider that I have a great breadth of experience in track engineering, while also taking a whole system-based approach for the last three years of my career. Moving into more major project work is an ambition of mine and fortunately, Network Rail offers that kind of role. If I am still where I am in five years, I'll not consider it any kind of failure. However, to keep developing, I think you have to look beyond the organisational structure that you currently work in from time to time.
Do you participate in any other career-related activities, such as mentoring, volunteering or membership of other engineering groups?
I am also a member of the Permanent Way Institution (PWI).
Outside work, is there any activity you enjoy doing in your spare time that relates to engineering?
I can turn my hand to some elements of DIY, but in the main I tend to try and keep quite active despite my advancing years. That coupled with a young family, for now takes up most of my spare time.