Delyth Williams MEng CEng MIChemE
Published: 20/11/2023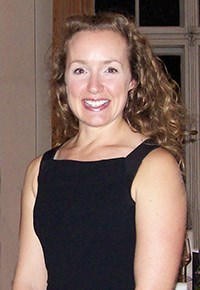 Education and qualifications:
MEng (Hons) Chemical and Biochemical Engineering, University of Wales, Swansea
Job title:
Refining Strategy Director
Employer:
Phillips 66
What inspired you to become an engineer or pointed you towards an engineering career?
I entered and won a design technology competition when I was in Year 9 at school and I received a letter of congratulations from the education board and event sponsors, who asked if it was my desire to pursue an education in engineering. As a 14-year-old I didn't really know what engineering was, so this prompted me to look into engineering as a study choice. I had fantastic A Level Chemistry and Maths teachers, who encouraged me at school, then at university I had a wonderful tutor who really pushed me and helped me to secure a summer placement in Toulouse, France, studying different types of fractionation tower internals. This gave me my first taste of working in engineering outside the UK.
Since I joined Phillips 66, I've  been fortunate to have had various other Chartered Chemical Engineers support and mentor me to get me to where I am today. They helped to coach me on my strengths and weaknesses and to encourage me to take different roles as part of my development (such as a role in our Production Planning group and a role supporting our Marketing division, when in the UK).

Please describe your role or position within your workplace.
I am responsible for managing the Capital Budget Program for four of our refineries. As part of this Capital Budget Management, I work closely with many different disciplines across the company to ensure we are managing the strategic direction of the business appropriately. I also manage a joint venture which exists between two of our business units. I relocated from Oklahoma, where I was an Area Lead at a refinery, to Houston to take on this new role.

Can you describe a typical working day?
Firstly, I will check in with the refineries that I support to establish if any new pressing items have arisen. I will then typically have various meetings, which may be with technical specialist, lawyers, finance or commercial; depending on what items need to be progressed or understood, which typically feed into long term work efforts. One day I maybe focused on one refinery for a specific topic, the next day it maybe a new business idea that we want to chase down.

Are there any particular challenges or unusual aspects to your role?
I have to learn how to influence and communicate with a huge range of people  including technical specialists, accountants, legal and executives, all of which I have to manage the communication and detail appropriately.

What do you find most enjoyable about your job?
I enjoy learning more about the business side of the company, and using my engineering knowledge to influence decisions and initiatives.

Is there a great professional achievement or high-profile accomplishment that you would like to tell us about?
Being offered the job as Area Lead at the Phillips 66 Ponca City Refinery in Oklahoma, USA was a personal achievement and it gave me a huge confidence boost. It was also super exciting to be given a new challenge. It was a a total life changer; I moved my family to Oklahoma and moved away from close friends and other members of the family to take on the role. I left behind "normal" UK life and a culture I have known for my whole life, to embrace, not only a new challenge in work, but also to live in a totally different culture.

What contributed to your decision to become professionally registered?
At the Phillips 66 refinery in the UK, I had to be Chartered to be promoted to Lead Process Engineer.

In what ways has registration benefitted your career?
Professional registration enabled me to be promoted and ultimately get the assignment I am currently on in the USA. I started work with ConocoPhillips straight from university, then the company spun off independent energy company Phillips 66 in 2012. Registration enabled me to take the next career step of becoming a Lead Process Engineer supporting our Marketing Division for two-and-a-half years. Here, I received a couple of awards for "operational excellence" and "growth and returns". I then worked for three years as a Lead Process Engineer at the Philips 66 UK refinery before moving to the USA.

How does your employer benefit from your professional registration?
It demonstrates competence to the UK Health and Safety Executive (HSE) and ultimately shows my dedication to the engineering profession and allows me to mentor and manage other engineers. I'm lucky to work for a company that values and realises the impact of continual training and development, including professional membership and registration.

Is there any advice you would pass on to someone considering professional registration?
I would advise keeping a log as you go through your career to make it easier to remember what you have done. Apply for professional registration as soon as you have the skills and experience. It will only open doors in your career.

Where do you see yourself in your career in five years' time or what are your future ambitions?
I'd like to continue to progress in a managerial role in Phillips 66, keeping an open mind on further assignments abroad, away from my "home" refinery in Humber, North Lincolnshire.

Outside work, is there any activity you enjoy doing in your spare time that relates to engineering? For example, do you participate in mentoring, volunteering or membership of other engineering groups?
I mentor the Chemical Engineers in my team and when I was in the UK, I supported the Institute of Chemical Engineers (IChemE), both at any local events they hosted (including putting suggestions forward for events) and mentoring those working towards Chartered status.
I enjoy hiking, biking, travelling and reading, so while the travelling can sometimes involve some problem solving it would be a tenuous link to engineering!