Blessing Danha CEng MICE
Published: 02/11/2021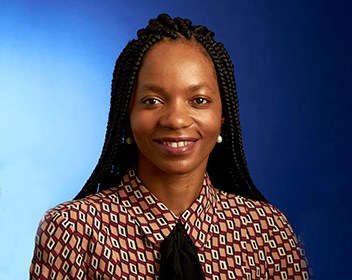 Education and qualifications:
MEng Civil Engineering, University of Portsmouth
Job title:
Senior Director
Employer:
Ankura
What inspired you to become an engineer or pointed you towards an engineering career?
I was obsessed with Formula One from the age of 12, which led me towards Science, Technology, Engineering and Maths (STEM) subjects. I just loved the precision and innovation of the designs.
Please describe your role or position within your workplace.
I am an infrastructure consultant and provide advice to clients covering the entire project lifecycle – from policy to decommissioning, on some of the largest and most complex projects around.  I also lead on net zero and environmental, social and governance (ESG) within our business, which means I spend my time supporting clients' transition towards net zero. 
Can you describe a typical working day?
Working from home during the pandemic has changed my typical day.  I am fortunate to work for an organisation that allows flexibility.  Recently I have begun going into the office once a week to connect with colleagues – there are some elements of team working that just work better in person, for example brainstorming before a project kicks off.
I start my day with a 30-minute high-intensity interval training (HIIT) exercise routine because I find it helps me get into the right frame of mind.  My meetings with clients start from 9am but can be earlier if the client is based in a different time zone. The nature of the work I do means that I work closely with clients on niche problems – many of our clients are still figuring out what net zero means for their businesses and projects, so I spend time supporting them unpack some of their thinking and coming up with approaches for them to consider. This can involve modelling scenarios to paint a picture of the art of the possible for their businesses and projects. It's an exciting time to be working on solutions to decarbonise the construction industry.
I mentor a few people and will sometimes catch up with my mentees. There is so much value in mentoring for both parties – I learn so much from them. My favourite mentoring moments are when I connect people in my circle.   
Are there any particular challenges or unusual aspects to your role?
We are often commissioned to help clients on extremely difficult problems that have never been solved before, which requires an open mind and a creative approach.
What do you find most enjoyable about your job?
I am a people person and I really love the soft skills elements of this job: it's about diplomacy and relationship building.
Is there a great professional achievement or high profile accomplishment that you would like to tell us about?
I was invited to speak at the 2020 Labour Party Conference on behalf of the Institution of Civil Engineers (ICE). I absolutely loved putting the case forward for what government should be doing to support the industry. Big infrastructure is political.
What contributed to your decision to become professionally registered?
I take pride in being a Chartered Civil Engineer (CEng). I was fortunate to work for Kier who had an excellent graduate training scheme. I was encouraged to become active within the ICE and I quickly reaped the rewards through networking and knowledge sharing.
In what ways has registration benefitted your career?
I never would have been offered my job on the Qatar Rail programme if I was not professionally registered. Being a member of the ICE is also internationally recognised.
How does your employer benefit from your professional registration?
We are able to win work from clients who demand a high level of professionalism, experience and qualification.
Is there any advice you would pass on to someone considering professional registration?
Do it! You will meet many people along the journey who will become lifelong friends and acquaintances. You never stop learning!
Where do you see yourself in your career in five years' time or what are your future ambitions?
I will continue being a mentor and champion for inclusion and diversity. It is important for me to inspire the next generation. I love travelling and would like to do another overseas engagement, and learn about our clients in other parts of the world, particularly the developing world.
Outside work, is there any activity you enjoy doing in your spare time that relates to engineering? For example, do you participate in mentoring, volunteering or membership of other engineering groups?
My career has enabled me to work as a STEM Ambassador, mentor, volunteer and an inclusion and diversity champion. I also value the relationships I have with my mentors who have all been a contributing factor to my success.
Not quite engineering, but I have an obsession with architecture and design. I spend my holidays looking at buildings and beautifully crafted furniture. And like most engineers, I look out for attitudes to safety on construction sites in my travels. You would be surprised by what you see.
Do you identify as disabled, or as a member of a minority or under-represented group? Would you like to comment on what impact or influence you feel this has had upon your career?
I am seeing more attention being paid to the impact of racism on people and I welcome the efforts of some employers and organisations to address inequalities.