Blessing Danha CEng MICE
Published: 22/06/2018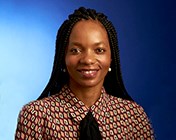 Education and qualifications: MEng Civil Engineering
Job title: Manager
Employer: KPMG
What inspired you to become an engineer or pointed you towards an engineering career?
I was obsessed with Formula One from the age of 12, which led me towards STEM subjects.  I just loved precision and innovation of the designs.
Please describe your role or position within your workplace.
I am the Programme Manager on an exciting programme called the Roads Investment Strategy 2 (RIS2), part of the government's Strategic Road Network proposals, https://www.gov.uk/government/consultations/shaping-the-future-of-englands-strategic-roads-ris2, where I am working on behalf of four partner organisations; Department for Transport, Highways England and Office of Rail and Road, and Transport Focus. Our team is providing programme office services and we support the effective delivery of the RIS2 programme. 
Can you describe a typical working day?
When I am training for a triathlon, I will often wake up at 5.30am so I can go for a one-hour bike ride with my ladies' cycling club around Regents Park before getting to work in Westminster for 9am. Our days are varied but we work on a reporting cycle which follows the programme governance calendar. For example, I will put together progress reports, review the risk register and monitor progress against the plan ahead of key steering group meetings, which are attended by the four partner organisation sponsors. Sometimes, my day could involve running workshops to unlock key decisions and looking ahead to plan further workshops. I also try to go to at least one interesting evening lecture at the Institution of Civil Engineers (ICE) every month.
Are there any particular challenges or unusual aspects to your role?
This job is very fascinating as it has enabled me to appreciate the unpredictable nature of political decisions and the impact that they can have on the programme.
What do you find most enjoyable about your job?
I am a people person and I really love the soft skills elements of this job: it's about diplomacy and relationship building.
Is there a great professional achievement or high-profile accomplishment that you would like to tell us about?
Taking a leap of faith to move to Qatar for work was an incredible move, both professionally and personally. I learned so much about the challenges of building in the Middle East. I met amazing people who have become close friends.
What contributed to your decision to become professionally registered? 
I take pride in being a Chartered Civil Engineer. I was fortunate to work for Kier who had an excellent graduate training scheme. I was encouraged to become active within the ICE and I quickly reaped the rewards through networking and knowledge share.
In what ways has registration benefitted your career?
I never would have been offered my job on the Qatar Rail programme if I was not professionally qualified. Being a Member of the ICE is also internationally recognised.
How does your employer benefit from your professional registration?
We are able to win work from clients who demand a high level of professionalism, experience and qualification.
Is there any advice you would pass on to someone considering professional registration?
Do it! You will meet many people along the journey who will become lifelong friends and acquaintances. You never stop learning!
Where do you see yourself in your career in five years' time or what are your future ambitions? 
I will continue being a mentor and champion for inclusion and diversity. It is important for me to inspire the next generation. I love travelling and would like to do another overseas engagement and learn about our clients in other parts of the world, particularly, the developing world.
Do you participate in any other career-related activities, such as mentoring, volunteering or membership of other engineering groups? 
My career has enabled me to work as a Science, Technology, Engineering and Mathematics (STEM) ambassador, mentor, volunteer and an inclusion and diversity champion. I also value the relationships I have with my mentors who have all been a contributing factor to my success.
Outside work, is there any activity you enjoy doing in your spare time that relates to engineering?
Not quite engineering, but I have an obsession with architecture and design. I spend my holidays looking at buildings and beautifully crafted furniture. And like most engineers, I look out for attitudes to safety on construction sites in my travels. You would be surprised by what you see.