Ben Hawkins BEng (Hons) MSc (BHam) MSc (Cran) CEng IEng MIET MInstRE
Published: 07/05/2021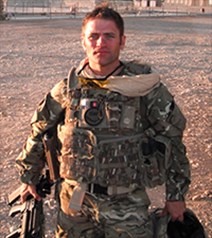 Education and qualifications:
MSc Battlespace Technology, Cranfield University
MSc Construction Management, The University of Birmingham
BEng (Hons) Civil Engineering, The University of Birmingham
Job title:
Associate Project Manager
Employer:
Arcadis
What inspired you to become an engineer or pointed you towards an engineering career?
My uncle was a civil engineer and I loved the way that he seemed to be able to fix anything, so I decided that I would become a civil engineer.
Please describe your role or position within your workplace.
As an Associate, I am in the Arcadis Management Team, delivering projects and programmes in the built environment. Working in the public sector as a consultant, I have been a Programme Manager for a large construction and maintenance programme in the South West. Latterly, I have become a Project Manager for a large student residential project where I have set up and run the project controls element of the project, working collaboratively with other consultants and, enabled by technology, delivering the best possible client success.
Can you describe a typical working day?
The vast majority of my working days are spent in one of the Arcadis offices, but I often find myself working at a client office, supporting them as they make their decisions for construction and investment to improve quality of life. The ever-changing nature of the market and the continual challenges posed by construction offer me opportunities to be exceptionally agile in delivery and offer great mental challenges, keeping me stretched and engaged. Seldom are two challenges the same! Nevertheless I am frequently on site, swapping my suit and shoes for boots and hi-vis.
Are there any particular challenges or unusual aspects to your role?
As an industry, construction is wrestling with the opportunities involved in becoming more digital. Being relatively new to the industry, I am fascinated to discover how the work was done historically and relish the opportunity to overlay new technology in support of our processes and improve our offering when set against our competitors.
What do you find most enjoyable about your job?
Being able to see a tangible difference that I have made is the most rewarding part of my job; it is not all about building 'things', but it is about people. Supporting my team's development and helping them to be the best that they can be in every endeavour is exceptionally rewarding.
Is there a great professional achievement or high-profile accomplishment that you would like to tell us about?
Earlier in my career I was a Royal Engineer Bomb Disposal Officer and had the privilege to serve around the world, making a difference to peoples' lives. On my last deployment (2012) I was the Officer Commanding of the UK Operations Squadron of the Explosive Ordnance Disposal (EOD) and Search Task Force (STF). Our role was to clear the battlespace of unexploded ordnance to allow life to return to normal in Afghanistan. The exceptionally dangerous nature of the battlefield meant that our adversary was exceptionally innovative in their approach to placing devices which endangered life and limb. Technology played a significant part in defeating that threat and my role was to integrate the equipment to save life and limb of our Armed Forces and the people of Afghanistan, in the face of the enemy. For my work I was awarded the Worshipful Company of Engineers' Royal Engineers Operations Engineering Award in 2013.
What contributed to your decision to become professionally registered?
While at the University of Birmingham, I had aspirations towards becoming a Chartered Engineer (CEng) relatively soon after graduation; having joined the Army, my career path deviated significantly after qualifying as a Bomb Disposal Officer. With significant conflicts underway in Iraq and Afghanistan, coupled with the increased threat from terrorism on the UK mainland, I found myself exceptionally busy in my first years as an engineer.
Once the Institution of Royal Engineers (InstRE) was able to award professional registration, a number of my soldiers gained registration. As a leader it was essential that I set the example, so I applied for Engineering Technician (EngTech) and then Incorporated Engineer (IEng) on the way to gaining CEng.
In what ways has registration benefitted your career?
On leaving the military, it can be difficult to capture those rich experiences and to share them in a way that the layman can understand. Gaining Chartered status offered me an excellent opportunity to reflect on my career to date, to collect evidence of my competence and have it recognised through an internationally renowned accreditation.
How does your employer benefit from your professional registration?
As an engineering and design consultancy, Arcadis benefits from not only my professional registration in terms of being able to demonstrate market-leading knowledge, skills and experience, but they also gain from my Continuing Professional Development (CPD) and the innovation which comes from that commitment to life-long learning.
Is there any advice you would pass on to someone considering professional registration?
While registration may, initially, seem daunting, with the right mentor you will be able to break your application into achievable chunks at the right level, allowing you not only to reflect upon and to demonstrate your professional achievements, but to also to recognise areas for development for the next stage in your learning journey!
Where do you see yourself in your career in five years' time or what are your future ambitions?
As my first career since the military I have enjoyed the construction industry immensely and love being an Arcadian. I would hope to have advanced in my career at Arcadis and, having learnt more and more about the industry, be ever more effective.
Do you participate in any other career-related activities, such as mentoring, volunteering or membership of other engineering groups?
I mentor and coach a number of people within the business. At Arcadis we pride ourselves on our people-first approach, and coaching is at the forefront of our minds when supporting colleagues to be the best that they can be. I am a Science, Technology, Engineering and Mathematics (STEM) Ambassador, and have done a number of rewarding activities in the local area to support young people who are being introduced to STEM careers and subjects. I also volunteer at the local secondary school, supporting their Duke of Edinburgh's Award scheme.
Outside work, is there any activity you enjoy doing in your spare time that relates to engineering?
Despite having done very little civil engineering, I still enjoy bridge spotting!