Adam Holmes CEng MICE MCInstCES FCIArb
Published: 14/03/2022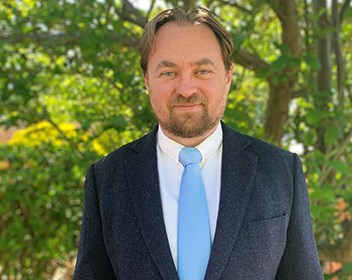 Education and qualifications:
Diploma in Law, The University of Law
Diploma in Construction Adjudication (CIArb)
HND Civil Engineering, Norwich City College
Job title:
Principal Planning Engineer
Employer:
BAM Nuttall
What inspired you to become an engineer or pointed you towards an engineering career?
I have always had an interest in how things work, in particular with building and infrastructure. During school, I always found it easier to apply myself to maths and the sciences, which supported an engineering career.
Please describe your role or position within your workplace.
I'm responsible for developing and maintaining construction programmes. To build effective, safe and robust programmes I need a full understanding of the engineering constraints, methodology and outputs. This involves developing engineering solutions to optimise programmes and costs. I'm also responsible for managing the effects of change, which impacts the programme.
Can you describe a typical working day?
No two days are the same, as the majority of civil engineering schemes are unique. Each stage of a tender or a construction project brings new challenges. A typical day would involve working closely with various teams (engineering, operational, commercial and client) to manage a construction project through its life cycle.
Are there any particular challenges or unusual aspects to your role?
I'm lucky to work on complex civil engineering schemes that involve coordinating a large number of disciplines. Due to the bespoke nature of some of the schemes – such as the Boston Barrier Project in Lincolnshire – this can be challenging, although good engineering principles and procedures always apply. The Boston Barrier will be one of the largest tidal barriers in the UK. To deliver the scheme successfully, input and coordination is required from a large number of specialists and stakeholders throughout the design, construction and commissioning stages.
What do you find most enjoyable about your job?
I enjoy working together to deliver a shared goal, and the fact that no two days are the same. There is a huge sense of achievement once a project has been delivered.
Is there a great professional achievement or high-profile accomplishment that you would like to tell us about?
I was invited to present a class at the Autodesk University Event in Las Vegas in 2015. This followed my employer, BAM Nuttall, being an early adopter of Autodesk's collaborative planning software on major construction projects. The Autodesk event covered classes on everything from working in the cloud and embracing Building Information Modelling (BIM) to digital prototyping. Over 10,000 professionals from construction, manufacturing, architecture, engineering and media creation attended from around the world.
What contributed to your decision to become professionally registered?
Achieving professional registration as a Chartered Engineer (CEng) is an internationally recognised benchmark and one that I had hoped to achieve early in my engineering career. It provides a sense of personal pride and achievement.
In what ways has registration benefitted your career?
I believe professional registration demonstrates that I have shown commitment to the profession, which is appreciated by my employer. I am now able to support and mentor others in achieving professional registration, which means I am valued by the business and individuals.
How does your employer benefit from your professional registration?
The business is fully supportive of people gaining professional registration and qualifications as their support assists in staff retention and attracting young engineers into the company.
The ability to promote individuals with professional registration during tender processes also shows the level of skill and competency in the business.
Is there any advice you would pass on to someone considering professional registration?
Start by investigating the most appropriate route based on your career experience or academic achievements. Understand the requirements and objectives, then identify areas where you feel additional support or learning is required. Use your professional development reviews to request additional training, experience or mentoring. Also, attend local engineering events and speak to people who have experience in achieving profession registration.
Plan backwards from when you hope to achieve professional registration, and establish what needs to be done at each stage. This will help you decide what needs to be accomplished in the preceding three or six months, to obtain your goal of achieving professional registration.
Where do you see yourself in your career in five years' time or what are your future ambitions?
I hope to move into a more specialised planning role using my experience and academic learning to support the business's Commercial and Dispute Resolution team. I am currently studying a Diploma in Law which should support my career ambitions.
Outside work, is there any activity you enjoy doing in your spare time that relates to engineering? For example, do you participate in mentoring, volunteering or membership of other engineering groups?
In June 2021, I became the Honorary Secretary for the Chartered Institution of Civil Engineering Surveyors (CICES). This is a voluntary role which supports the institution's ambitions to advance the science and art of civil engineering surveying.
I am also a Delegated Engineer (DE),which involves mentoring and guiding colleagues who are pursuing membership of either the Institution of Civil Engineers (ICE) or CICES. As a DE, I carry out routine reviews of trainees' progress and am responsible for their day-to-day mentoring, to help them achieve their potential.
In my spare time I'm a passionate angler and like to design and create products that assist my hobby. Angling gives me the chance to enjoy the biodiversity away from work.