World heritage status marked for Forth Bridge
Published: 24/08/2017
A plaque has been unveiled at the Forth Bridge this week by Transport Minister Humza Yousaf, marking its status as a World Heritage Site. Unesco's inspection report commented that the bridge "was conceived and built using advanced civil engineering design principles and construction methods. Innovative in design, materials and scale, the Forth Bridge is an extraordinary and impressive milestone in bridge design and construction during the period when railways came to dominate long-distance land travel.".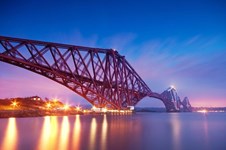 This feat of engineering became the UK's 29th UNESCO World Heritage site on 5 July 2015, following a bid put forward by the UK government after a joint project by the Scottish Government, Network Rail, Transport Scotland and Historic Scotland.
When this status was awarded, Heritage Minister, Tracey Crouch, said "It's fantastic news that the UK's nomination has led to the inscription of the Forth Bridge. Recognition as a World Heritage Site will draw more tourists to the area as well as making sure one of the UK's great engineering feats stands for future generations.". The bridge spans the Firth of Forth between South Queensferry on the outskirts of Edinburgh and North Queensferry in Fife, and took a total of eight years to build.
Designed by Sir John Fowler and Benjamin Baker, the Forth Bridge measures 1.5 miles (2,529m) and weighs 53,000 tonnes. When built, it was the world's longest multi-span cantilever bridge and remains the second longest.
"The Forth Bridge is an iconic piece of Victorian industrial engineering which has a proud place in the UK's rich culture and heritage. Being recognised as a World Heritage site is a fitting accolade for this bridge which has played such an important part in the lives of Scots for 125 years.", said the Secretary of State for Scotland, David Mundell.
The Forth Bridge opened in 1890 and more than 100 years later, it continues to be an important part of Britain's rail infrastructure, carrying thousands of passengers each day. To allow work to be carried out on the Forth Road Bridge, enabling it to become an active travel corridor, the Queensferry Crossing will open to traffic on 30 August 2017.
A £300,000 3D scanning project has captured billions of points of data from the structures of the Forth Bridge, Forth Road Bridge and Queensferry Crossing. Partially funded by Transport Scotland, this data has enabled Scottish digital heritage experts to produce resources aimed at developing STEM skills in Scottish schools, including augmented reality apps, real-time interactive models (which allow virtual headset tours and video fly-throughs) and learning games, all scheduled for release in 2018.
Transport Minister Humza Yousaf said "If the bridges are a globally unique showcase of Scotland's world-class engineering skills, this amazing 3D scanning project also showcases the world-leading design, research and innovation in our Higher Education institutions. But now, rightly, our focus is education and creating learning tools to educate and inspire the young engineers of the future.".
Resources: