Sign up for the 2017 Future of Engineering Conference
Published: 16/02/2017
A free, one-day conference offers early career engineering professionals and postgraduates the opportunity to explore and debate the important relationship between innovation, standards and the development of future technologies. The theme of the 2017 Future of Engineering Conference (#FOE17) is Innovation, Trust & Responsibility.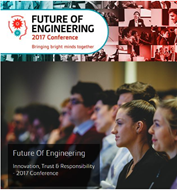 The annual event is organised by the National Standards Body (BSI) in partnership with the Institution of Engineering and Technology (IET) and other industry organisations. It is being held at IET's London base Savoy Place on 26 April 2017, from 9.30am to 4pm.
The conference will seek to answer questions such as what a 'successful' innovation is, how to ensure that new technology is fit for purpose and how to keep up with the pace of technological change. It will consist of presentations, panel debates and interactive sessions as well as break out sessions for networking.
The event is an opportunity to gain insight from leading professionals, network with industry peers and to support continuing professional development. For more details and to book a place to attend, please click on www.bsigroup.com/foe-uk or Eventbrite.