Last week to nominate for WISE Awards 2017
Published: 19/06/2017
The deadline for nominations for the 2017 WISE Awards is 23 June. The annual event recognises inspiring organisations and individuals who are actively promoting science, technology, engineering and mathematics (STEM) to girls and women.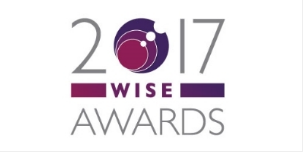 The 2017 Awards will take place on 9 November at 8 Northumberland Avenue in London. In recent years the awards have been presented by Her Royal Highness, The Princess Royal.
The Awards cover ten categories, including One to Watch for trailblazing young women aged 21 and under who are passionate about STEM. A winner is chosen from a shortlist of ten. Other awards include the WISE Man Award, celebrating those who are working to address the gender imbalance, and the WISE Talent Award, which highlights a recruitment campaign that has proved effective for getting women into science, technology, engineering or construction jobs, Apprenticeships, board roles or as students. The ten Award categories are:
WISE Toy Award
WISE Talent Award
WISE Apprenticeship Programme Award
WISE Employer Award
WISE Man Award
WISE World Award
WISE Tech Innovation Award
WISE Technology & Engineering in Health
WISE Woman in Industry
WISE One to Watch Award
More information about the different awards and how to make a nomination is available by clicking on WISE Awards 2017. A conference, including presentations, panel discussions and workshops, will be held during the day on 9 November before the evening awards ceremony.