Ian Chisholm, IEng FSOE FIRTE
Published: 12/10/2017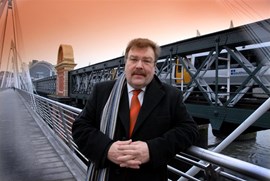 The Engineering Council was saddened to hear of the recent passing of Ian Chisholm, Chief Executive of the Society of Operations Engineers (SOE). 
"SOE announced on 12 October that Ian Chisholm IEng FSOE FIRTE, our Chief Executive, has died following a short illness.
Ian joined the SOE in 2001 as an Engineering Executive after spending over 20 years at Waltham Forest College, predominantly as a Senior Lecturer. Appointed as Chief Executive in 2016, Ian was instrumental in building SOE into the influential, thriving organisation it is today, and took a hands-on role in membership recruitment, communications and stakeholder management.
SOE President Howard Seymour, said: "Ian leaves an incredible legacy in the engineering profession. He was not only a dedicated and passionate engineer, he was also a very approachable person who was always willing to help others. Ian was an absolute gentleman, and someone I fully respected for his advice on engineering matters. His experience and knowledge helped SOE to progress in the manner that it has, but it is his modest nature and sincerity that many people will remember him by."
A committed and enthusiastic fundraiser, Ian built strong relationships with many charities, particularly those dealing with disaffected young people and, through his college employment, became devoted to education in engineering. In 1984, Ian wrote a book entitled, 'Automobile Engine and Vehicle Technology.'
SOE Patron Beverley Bell CBE, said: "I knew Ian for many years and throughout that time he always acted professionally and with the interests of SOE at heart. He was a man of complete integrity and his commitment to SOE was second to none. Everyone who worked with him thoroughly enjoyed his company, his down to earth approach and his dry sense of humour."
Ian held a strong interest in professional cooking, art deco design and cars. He was also known to enjoy a glass of the finest Malbec.
Everyone at SOE would like to express their gratitude to an exceptional man who will be missed greatly, and our thoughts are with his wife and son at this difficult time.
A JustGiving page has been set-up for anyone wishing to donate in Ian's memory.