European networking event for young professionals comes to Manchester
Published: 13/02/2017
The biennial European Nuclear Young Generation Forum (ENYGF) is coming to Manchester in 2017, from 11 to 16 June. The event brings together students and young professionals from across the European nuclear industry, covering many disciplines. It was last held in Paris in 2015, with over 350 delegates attending from 27 countries.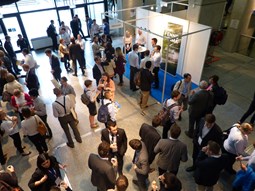 The theme for the week-long Forum is Innovation in nuclear: a rich heritage and our bright future. In keeping with this theme, the event venue is the historic Victoria Warehouse in Manchester. The programme will include expert speakers, interactive technical workshops and panels and tours to sites around the UK. There will also be extensive networking opportunities. The 2017 event will showcase the UK's nuclear expertise and give young professionals from across the world the opportunity to learn and discuss current issues affecting the industry. It is also an opportunity for personal and professional development.
A key part of the Forum is an exhibition on 15 June. Exhibitors will include professional engineering institutions, academia, international industrial organisations and other engineering bodies. The exhibition zone is an opportunity for delegates to find out more about the engineering community and ask questions, while for institutions it is an opportunity for exposure and to meet young engineering professionals. A number of exhibition spaces will be dedicated to organisations supporting continuing professional development.
Enquiries about exhibiting at the event should be sent to exhibition.enygf2017@nuclearinst.com. More information about ENYGF 2017 and exhibiting is available at www.enygf.org