Engineering profession says new industrial strategy must deliver on long-term vision and transcend party politics
Published: 24/04/2017
The UK engineering profession has called on government to ensure that its proposals for industrial strategy will rewrite the rules of previous strategies and avoid short-termism and siloed policy making, in a new report published on 24 April. The Engineering an economy that works for all report argues that the strategy must enable UK industry, academia, government and investors to break out of their silos and work together as a system to achieve long-term, sustainable growth. This approach is critical, it says, if the UK is to maximize the opportunities and mitigate the risks presented by the UK's departure from the EU.
The report represents a collaboration of all 38 professional engineering organisations, including Engineering Council, EngineeringUK, 35 professional engineering institutions and led by the Royal Academy of Engineering. It distills evidence and opinions gathered through a series of ten workshops across the UK and a survey of the profession.
The report calls for the industrial strategy to embody an ambitious and bold long-term vision that harnesses the UK's international reputation for engineering excellence and forges a new global identity for Britain as a top destination for inward investment and global talent. It also asks that the government broadens the strategy to address a wider range of interventions to develop skills, highlighting in particular the need for digital skills to support future industries and for urgent action to be taken in primary and secondary schools to address the shortage of teachers in STEM subjects. A much greater, targeted focus is needed on promoting STEM subjects and engineering careers to under-represented groups (including girls, people from BAME communities and those from lower socio-economic backgrounds) to fully unlock the talent potential in the UK.
Professor Dame Ann Dowling OM DBE FREng FRS, President of the Royal Academy of Engineering, says: "A good industrial strategy will not make government intervention more likely, but it will make it more predictable - and that builds confidence and encourages business investment. The strategy must be long-term and sustained, with cross-party and whole government support, and should be an important part of all party manifestos as they approach the forthcoming general election."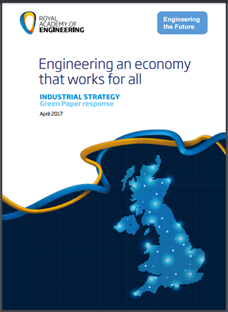 The report responds to each of the ten pillars laid out in government's Building our Industrial Strategy green paper. Under developing skills (pillar 2), it supports the introduction of T-level qualifications. However, it highlights that the engineering community needs to be closely involved in developing curriculum content and that T-levels in engineering and manufacturing, construction and built environment, and digital must align with and address the knowledge and skill requirements for professional registration at technician level.
The report also emphasises that upskilling and professional development of the existing engineering workforce should be through effective existing mechanisms such as professional registration, which should in turn be encouraged through government procurement policies.
Alasdair Coates BEng(Hons) MSc CEng FICE MCIHT CMIOSH, Engineering Council CEO, says: "Investment in future UK engineering skills is vital to ensure that we have sufficient home grown talent to safely and efficiently deliver our major engineering projects. Supporting and upskilling the UK workforce will also assist in delivering some of the other pillars laid out in the industrial strategy, such as upgrading infrastructure. In an environment of constant change and new technological advancements, an emphasis on upskilling and continuing professional development is crucial and is at the heart of professional registration."
The report also emphasises that sensible and proportionate arrangements should be in place to retain and attract non-UK nationals who are essential to the UK's success in engineering, research and innovation.
Please click to read the full press statement, including the report's key recommendations, and to view the full report. The engineering profession's response to the industrial strategy is being published by the Royal Academy of Engineering through the Engineering the future (EtF) policy group. EtF is an alliance of professional engineering institutions and national organisations that between them represent 450,000 professional engineers. More information is available at https://engineeringthefuture.co.uk/about/