Engineering Council launches new Strategic Plan
Published: 20/06/2017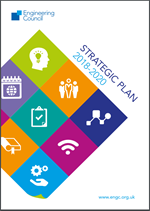 The Engineering Council has published its new Strategic Plan that will steer the organisation's work for the next three years, from 2018 to 2020. The plan, which was launched at the Engineering Council's 2017 Annual General Meeting (AGM) on 15 June, follows three clear aims: to provide public benefit, to maintain a globally recognised Standard and to meet future needs.
Professor Chris Atkin CEng FRAes, who became Chairman of the Engineering Council at the AGM, said: "I am proud to take on the role as the Engineering Council's new chair as we prepare to carry out our new Strategic Plan. In collaboration with the engineering community, most notably the professional engineering institutions but also academics and employers, we will continue to ensure that those who become professionally registered with us are not only competent and committed to the profession, but are also able to work in an ethical, sustainable and safe manner."
As a charity, providing public benefit remains a key driver for the Engineering Council, so that society can continue to have confidence that professionally registered engineers and technicians are competent and ethically responsible. Part of this work will include supporting key stakeholders in integrating diversity and inclusion across the profession.
Ensuring that the Engineering Council's Standard remains relevant and internationally recognised is crucial to the regulatory body. Activities in this second area of work will include a review of the organisation's key documents, the UK Standard for Professional Engineering Competence (UK-SPEC) and ICTTech, to ensure they remain relevant and fit-for-purpose, as well as wider engagement in order to promote the national Register.
As the engineering profession advances with new technologies, the Engineering Council must remain aware of the challenges that the profession is likely to face and adapt its regulatory functions to the meet them. The third aim of the Strategic Plan will monitor emerging trends, particularly in relation to the acquisition of knowledge and understanding, and ensure that the organisation's systems and processes remain fit-for-purpose for a future profession where the boundaries between the different disciplines of engineering may become less distinct.
Prof Atkin added: "As our industry strives to develop engineering education, increase Apprenticeships and push for greater diversity and inclusion within the sector, engineering skills have never been more valued and sought after. It is therefore vital that the profession's regulatory model is kept fit for the needs of the future."
To view the document, please go to: 2018 to 2020 Strategic Plan