Creating an inclusive environment
Published: 21/04/2017
An Essential Principles Guide has been published for Built Environment Professionals on creating an accessible and inclusive environment. The Construction Industry Council (CIC) launched the Guide in March.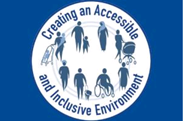 The Guide sets out six principles, as suggested by the Office for Disability Issues. The principles aim to guide, support and motivate professionals when making decisions which affect the achievement of an inclusive environment. They also ensure that inclusion is integrated into all professional activity.
The guide is an initiative that emerged from the Built Environment Professional Education Project (BEPE), a government project now being taken forward by CIC. The initiative seeks to build on the legacy of the London 2012 Olympic and Paralympic Games by helping to generate a shift change in how inclusive design skills are taught in the UK. The aim is that all built environment professionals will receive mandatory, quality teaching about inclusive design so that they can help create inclusive buildings, places and spaces for future generations.
The six essential principles explored in the Guide are:
Contribute to building an inclusive society now and in the future
Apply professional and responsible judgement and take a leadership role
Apply and integrate the principles of inclusive design from the outset of a project
Do more than just comply with legislation and codes
Seek multiple views to solve accessibility and inclusivity challenges
Acquire the skills, knowledge, understanding and confidence to make inclusion the norm not the exception
BEPE Project Board Chair Paul Morrell commented that an industry to be proud of would be one that always make accessibility a priority. He said: "To do that, all we have to do is first to care; then to know what to do; and then just do it. These are challenges of attitude, academics and action, and rising to all of those challenges would be to achieve real BuildAbility."
The Guide has been endorsed by numerous professional organisations, including the Engineering Council. For more information and to download the free guide please click to visit CIC's website.