Technicians celebrated at IET Innovation and Achievement Awards
Published: 01/12/2016
Over 450 people attended the 2016 Institution of Engineering & Technology Awards in November to celebrate innovation in engineering and outstanding apprentices and technicians. TV presenter Rob Bell hosted the evening and announced the 15 category winners, chosen from 300 entries from 25 countries.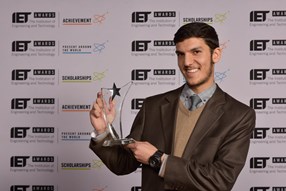 Award winners included Telecoms technician Ozair Said EngTech, who picked up the Technician of the Year gong for his important work in improving his team's capability in Building Information Modelling (BIM) at WSP | Parsons Brinckerhoff. Alongside his work, he arranges work experience placements and mentoring for students and presents at various events in schools and universities to promote engineering.
Engineering Technician Josh Barber was awarded Apprentice of the Year and Royal Engineers Staff Sergeant Nicholas Statham was named Armed Forces Technician of the Year for his mission-critical work in bulk fuel storage. These awards recognise individuals who have made exceptional engineering contributions to their profession or operational area.
IET Innovation Awards winners at the 2016 ceremony recognised innovation in technology, cyber security and communications. Winners included inventions that improve the lives of visually impaired people, reduce malware attacks, increase hip replacement accuracy and combat nuclear terrorism threats.
A revolutionary virtual reality hip replacement simulator developed by Bournemouth University and Poole Hospital NHS Foundation Trust was awarded first prize in the Information Technology category. The simulator improves surgeon accuracy by 20% and helps the NHS to reduce both training costs and consultancy time for the 66,000 hip replacements that are performed in the UK each year. Kromek Group won recognition for their development of a radiation detection network that can identify nuclear threat materials across a whole city. They took the prize in both the Intelligent Systems and Navigation and Surveillance Communication categories. A full list of winners can be found on the IET website