IET recognises three exceptional young women engineers
Published: 13/12/2016
The Institution of Engineering and Technology (IET) celebrated three exceptional young women engineers at its Young Woman Engineer (YWE) Awards Ceremony on 1 December 2016.
The Young Woman Engineer of the Year award was presented to Jenni Sidey, a lecturer in the Department of Engineering at the University of Cambridge.
Gemma Dalziel, an Apprentice Network Consulting Engineer at Cisco Systems, received The Mary George Memorial Prize for Apprentices, while Bethan Murray, a Manufacturing Systems Lead at Rolls Royce, was presented with the Women's Engineering Society (WES) Prize.
As well as receiving recognition for their professional achievements, the award winners have become role models within engineering and technology. Their recognition gives them a platform to promote the industry to young people, especially girls, as well as key influencers including parents, teachers and UK Government.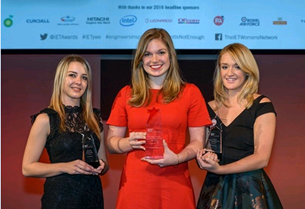 Jenni said: "I am enormously proud to be recognised by such a progressive program promoting women in engineering within the UK.
"The IET has worked hard to raise awareness of the lack of diversity within the engineering profession. I hope that, through my receipt of this award and involvement in gender diversity initiatives, I can strengthen the IET's sentiment: to reach our technological potential, the UK's engineering workforce must be inclusive and diverse."
The IET hosts the YWE Awards every year to highlight the best young women engineers in the UK, in the hope that they will inspire girls and women to enter the industry. With women making up just nine per cent of the of the UK engineering and technology workforce (IET Skills & Demand in Industry survey 2016), such awards are very important.
For more details, please visit theiet.org/ywe/