Gemma Lonsdale wins 2016 Baroness Platt of Writtle Award
Published: 20/07/2016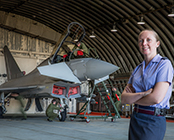 Squadron Leader Gemma Lonsdale IEng MIET has won the 2016 Baroness Platt of Writtle Award for her outstanding work as an engineer officer in the Royal Air Force (RAF). Presented by the Engineers Trust (Charitable Trust Fund of Worshipful Company of Engineers), this prestigious annual award recognises the achievements of a newly registered Incorporated Engineer (IEng). Gemma was presented with a medal, certificate and prize money of £1,000 at the Annual Awards presentations of the Worshipful Company of Engineers, on 19 July 2016.
Gemma Lonsdale is currently the Senior Engineer Officer on a RAF Typhoon Squadron, responsible for the availability, capability and airworthiness of the aircraft. In previous roles, she has reduced the time for scheduled maintenance of Tornado aircraft by 55% and led the engineering input to an inquiry into an aircraft that overshot a runway during an emergency landing. As a trials officer, her astute engineering judgement enabled her to design a unique transportation system for a damaged aircraft, and she made a significant contribution to the flight safety of one of the RAF's aircraft fleet.
Gemma shows commitment to the engineering profession as a STEM ambassador, promoting engineering within the RAF to the Air Cadet Organisation and encouraging junior officers to engage with professional institutions.
Gemma Lonsdale said: "I am delighted to receive this award. My career in the RAF has always been both exciting and challenging and it is an honour to have my achievements recognised by the Institution of Engineering and Technology, and the Worshipful Company of Engineers. I would like to thank my family and colleagues for all their support and I will continue to share my enthusiasm for engineering with young people and encourage them to follow this extremely rewarding career."
In 2015, 1,401 talented engineers successfully achieved IEng. Gemma was nominated for this award by the Institution of Engineering and Technology (IET) and judged against nine others who had been nominated by their respective professional engineering institutions. The judges were particularly impressed by Gemma's presentation, application of engineering knowledge, leadership ability, management and commercial skills.
Peter Blair-Fish, Award Coordinator of the Worshipful Company of Engineers, said: "This award is for Incorporated Engineers of all disciplines. This year saw an exciting spread of nominees working in a variety of industries from aircraft and railways to manufacturing, welding, scaffolding, and mechanical and electrical services. Their nomination papers demonstrated a very high standard of engineering and professionalism."
Jon Prichard, CEO of the Engineering Council, added: "I would like to congratulate Gemma Lonsdale, who is clearly an outstanding IEng registrant. We were delighted to hear from the judges that the quality of all the nominated candidates was extremely high. Incorporated Engineers make an essential contribution to all sectors of the engineering profession, and once again we would like to thank the Engineers Trust for recognising these individuals through this award."
For the full press release, please go to 2016 Baroness Platt of Writtle Award
Nominations for the 2017 Baroness Platt of Writtle Award will open early in the new year. Institutions will be able to nominate up to five members who achieved IEng status in 2016. Nominees should, in the view of their institution, have displayed outstanding commitment to the engineering profession, have excellent communications skills and have demonstrated management qualities. Please see http://www.engineerstrust.org.uk/ for further details.