Ronald Wood
Published: 18/09/2017
Route: Accredited degree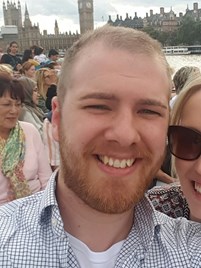 Name: Ronald Wood CEng MRAeS
Age: 28
Education and qualifications: BEng (Hons) Aeronautical and Mechanical Manufacturing at Glyndwr University, MSc Aerospace Manufacturing at Cranfield University
Which Institution are you a member of? Royal Aeronautical Society (RAeS)
Current job title: Aircraft System Industrialisation Engineer
Company: Airbus
Length in current role: 9 Months (almost 10 years at Airbus)
Approximately how many staff are employed by your company?  >1000
Where are you based? Broughton, near Chester, UK 
Describe your experience of how you became an IEng
At first I carried out a lot of research, visiting different institution websites and reading about people's experiences. I met with my mentor every three weeks to discuss what I had been working on and to go through the competences I had achieved. This was invaluable to my development. 
My pathway to registration was through an accredited degree. I was very fortunate that my role is very diverse in the world of aircraft systems, providing production support and leading engineering projects. At the time of pulling together my application, I had just delivered an aircraft modification into production that resulted in significant time and cost savings to the company. I used this for my professional review report. I found as soon as I sat down in the room with the two interviewers, the whole purpose was to find out about me and give me the opportunity to expand on what I had written in my competency report. The process is not easy or hard, if you spend the time properly preparing and complete the competences over a structured period, there is nothing to worry about. 
What advice would you give someone considering professional registration as an IEng or CEng?
There are many institutions and societies that offer the different levels of professional registration. RAeS was the logical one for me to join. I would approach potential mentors and sit down over a coffee and discuss timeframes. For me the most important thing was structure and time. It should be driven by the individual over a period of time during which all the competences can be developed and recorded without rushing. 
How has becoming an IEng/CEng benefitted your career?
I strongly believe that registration brings together all your qualifications and experience; it is a way of demonstrating your competence and commitment as an engineer. Not everyone chooses to show their registration in their email signatures, but for those that do, it demonstrates that the individual is working at a certain level of competence with experience, having achieved an internationally recognised professional standard. I believe that all levels of registration are a true achievement.