Sam Williams wins 2017 Baroness Platt of Writtle award
Published: 19/07/2017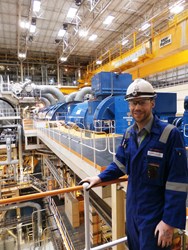 Sam Williams IEng MIMechE has won the 2017 Baroness Platt of Writtle Award for his outstanding work with EDF Energy at Sizewell B power station. Presented by the Engineers Trust (Charitable Trust Fund of Worshipful Company of Engineers), this prestigious annual award recognises the achievements of a newly registered Incorporated Engineer (IEng). Sam was presented with a medal, certificate and prize money of £1,000 at the Annual Awards presentations of the Worshipful Company of Engineers, on 18 July 2017.
Sam Williams worked for engineering consultancies for several years before joining EDF Energy at Sizewell B power station as a project engineer.
For a radioactive waste processing project for long term storage of spent ion exchange resins, he made technical judgements and set design requirements for a dedicated radioactive waste processing cell. He reviewed the contractor's design for constructability and adherence to the specified requirements. He devised functional tests and oversaw the commissioning of the waste processing cell including setting to work the multidisciplinary commissioning team. The novel technology used to process the radioactive intermediate level waste resins had not been used before anywhere in the UK.
He has demonstrated strong leadership qualities when initiating and supervising work during reactor refuelling outages. He is well aware of relevant health and safety legislation and is committed to promoting safety in the workplace through coaching and field supervision.
Sam has a recognised ability to deliver projects in the Nuclear Industry through effective stakeholder management and a proven ability to lead and motivate his project team. He is currently managing fixed price contracts of up to the value of £14 million for the replacement Turbine Governor and Supervisory systems on both 600 MW turbine generators at Sizewell B.
He also mentors younger engineers and actively promotes professional membership. The judges were particularly impressed by his clear, confident and well-illustrated presentation.
Sam Williams said: "I am delighted to receive this award. My career in the nuclear industry has always been both exciting and challenging and it is an honour to have my achievements recognised by the Institution of Mechanical Engineers and the Worshipful Company of Engineers. I would like to thank my family and colleagues for all their support and I will continue to share my enthusiasm for engineering with young people and encourage them to follow this extremely rewarding career." 
In 2016, over 28,000 talented engineers successfully achieved IEng status. Sam was nominated for this award by the Institution of Mechanical Engineers (IMechE) and judged against eleven others who had been nominated by five professional engineering institutions. Six nominees were interviewed. The judges were particularly impressed by Sam's presentation, application of engineering knowledge, and understanding of health, safety and the environment.
Peter Blair-Fish, Award Coordinator of the Worshipful Company of Engineers, said: "This award is for Incorporated Engineers of all disciplines. This year saw an exciting spread of nominees working in a variety of industries from airports, tramways, structures and marine safety to motor manufacture, nuclear power and defence. Their nomination papers demonstrated a very high standard of engineering and professionalism." 
Alasdair Coates, CEO of the Engineering Council, added: "I would like to congratulate Sam Williams, who is clearly an outstanding IEng registrant. We were delighted to hear from the judges that the quality of all the nominated candidates was extremely high. Incorporated Engineers make an essential contribution to all sectors of the engineering profession, and once again we would like to thank the Engineers Trust for recognising these individuals through this award."
Nominations for the 2018 Baroness Platt of Writtle Award will open early next year. Institutions will be able to nominate up to five members who achieved IEng status in 2017. Nominees should, in the view of their institution, have displayed outstanding commitment to the engineering profession, have excellent communications skills and have demonstrated management qualities. Please see www.engineerstrust.org.uk for further details.


-Ends-
For press enquiries:
Kate Webster, Marketing and Communications Manager, Engineering Council:
020 3206 0567 kwebster@engc.org.uk  
Or contact the Institution of Mechanical Engineers' Press Office
020 7304 6877   media@imeche.org
Notes to editors:
History of the award
This year is the fifth time that the Baroness Platt Award has recognised an outstanding newly registered Incorporated Engineer. The Award was originally established by the Worshipful Company of Engineers to recognise engineering excellence amongst those pursuing final year studies leading to the academic qualifications needed for Incorporated Engineer status. It was awarded in this form from 2002 to 2012, with the assistance of the Institution of Incorporated Engineers and later the Institution of Engineering and Technology in selecting the Award winner. The award is limited to British citizens or those who have resided in the UK for at least five years and whose principal residence is in the UK.
About Baroness Platt of Writtle CBE
Baroness Platt studied engineering at Cambridge University and worked on the testing and production of fighter aircraft during the Second World War. After the war, she worked on air safety in the research department of British European Airways. Later, she chaired the educational committee of Essex County Council and the Equal Opportunities Commission, was chancellor of Middlesex University and a non-executive director of British Gas. She was instrumental in setting up WISE – Women In Science and Engineering, and a champion of the role of Incorporated Engineers. Baroness Platt was a Fellow of the Royal Academy of Engineering, an Honorary Fellow of both the Royal Aeronautical Society and the Institution of Mechanical Engineers, and an Assistant Emeritus of the Worshipful Company of Engineers.
About the Worshipful Company of Engineers
The Worshipful Company of Engineers (www.engineerscompany.org.uk) is one of the 'modern' livery companies of the City of London. Established in 1983, its Liverymen are all Chartered Engineers and Fellows of an appropriate professional engineering body, or Fellows of the Royal Academy of Engineering. This award is funded by the Engineers Trust (www.engineerstrust.org.uk), with a contribution from the Dulverton Trust.
About the Institution of Mechanical Engineers (IMechE)
The Institution of Mechanical Engineers was established in 1847 and has some of the world's greatest engineers in its history books. It is one of the fastest growing professional engineering institutions. Headquartered in London, it has operations around the world and over 115,000 members in more than 140 countries working at the heart of the most important and dynamic industries such as the automotive, rail, aerospace, medical, power and construction industries. www.imeche.org
About the Engineering Council
The Engineering Council holds the national Register of Engineering Technicians (EngTech), Incorporated Engineers (IEng), Chartered Engineers (CEng) and Information and Communication Technology Technicians (ICTTech). It also sets and maintains the internationally recognised standards of competence and ethics that govern the award and retention of these titles. By this means it is able to ensure that employers, government and wider society, both at home and overseas, can have confidence in the skills and commitment of registrants. For more information visit www.engc.org.uk