High ethical standards promoted by engineering profession
Published: 12/07/2017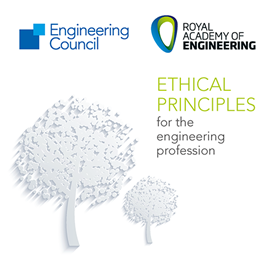 The engineering profession has reviewed and launched a key document that provides guidance for engineers and technicians on ethical behaviour and decision-making.
The Statement of Ethical Principles for the engineering profession has been produced by the Engineering Council and the Royal Academy of Engineering. It sets out four fundamental principles that all engineering professionals should aspire to follow in their working habits and relationships.
The document was first published in 2005 and has been reviewed in 2017 to ensure that it remains current. An event to mark the publication of the revised document was held at the Royal Academy of Engineering on 11 July 2017, hosted by its President, Professor Dame Ann Dowling OM DBE CEng FRS FREng.
She says: "Engineering professionals work for the wellbeing and safety of our society so it is vital that they maintain and promote high ethical standards. They also have a responsibility to challenge unethical behaviour."
The event was well attended by members of the profession who heard from several speakers. Professor Chris Atkin CEng FRAeS, Chair of Engineering Council, highlighted the importance of the document for those supporting education, training and professional development.
He says: "With this clear statement of what it means to behave in an ethically responsible way, the profession needs to ensure that the principles are embedded at all stages of professional development for engineers and those technicians, tradespeople, students, apprentices and trainees engaged in engineering. It is equally important for anyone who manages or teaches engineers to be aware of these principles, even if they themselves are not an engineer."
Dame Judith Hackitt DBE CEng FREng, Chair of EEF, gave an employer's perspective on the value and importance of upholding ethical practices, while Philip Corp CB CEng, who chaired the Working Group that revised the Statement of Ethical Principles, gave an insight into the process of keeping such a document current in a fast moving industry.
The principles set out in the document cover the areas of: Honesty and integrity; Respect for life, law, the environment and public good; Accuracy and rigour; and Leadership and communication.
Statement of Ethical Principles for the Engineering Profession is now available to download from www.engc.org.uk/professional-ethics. In addition, the Engineering Council has produced handy wallet-sized cards for engineers and technicians, listing the four principles. These can be obtained by contacting marketing@engc.org.uk. This document complements the Engineering Council's other guidance leaflets on risk, sustainability, security and whistleblowing, which are all available at www.engc.org.uk/standards-guidance/guidance/
-Ends-
For press enquiries and image requests:        
Jane Sutton, The Royal Academy of Engineering - jane.sutton@raeng.org.uk, 020 7766 0636
Kate Webster, Engineering Council: kwebster@engc.org.uk, 020 3206 0567


The Engineering Council holds the national Register of Engineering Technicians (EngTech), Incorporated Engineers (IEng), Chartered Engineers (CEng) and Information and Communication Technology Technicians (ICTTech). It also sets and maintains the internationally recognised standards of competence and ethics that govern the award and retention of these titles. By this means it is able to ensure that employers, government and wider society, both at home and overseas, can have confidence in the skills and commitment of registrants. For more information visit: www.engc.org.uk
As the UK's national academy for engineering, the Royal Academy of Engineering brings together the most successful and talented engineers from across the engineering sectors for a shared purpose: to advance and promote excellence in engineering. It provides analysis and policy support to promote the UK's role as a great place to do business. It takes a lead on engineering education and we invest in the UK's world-class research base to underpin innovation. The Royal Academy of Engineering works to improve public awareness and understanding of engineering. It is a national academy with a global outlook, and we use our international partnerships to ensure that the UK benefits from international networks, expertise and investment. For more information visit: www.raeng.org.uk