Dr. Amrit Chandan named winner of the 2017 Hawley Award for power storage solutions
Published: 18/07/2017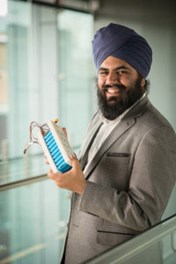 The Engineers Trust has announced the winner of its 2017 Hawley Award for Engineering Innovation that benefits the Environment. Dr. Amrit Chandan has been awarded the £5,000 cash prize for the work undertaken in ACELERON on Project NuCYCLE. 
Amrit's work with ACELERON is to produce low cost lithium ion energy storage in developing countries by repurposing perceived end-of-life lithium batteries.  The NuCYCLE is the quick testing process which makes testing economically viable and helps to solve the problem of energy storage in developing countries through recycling used lithium ion batteries found in electric cars and laptops, enabling them to be reused. In countries where energy storage is problematic, power is mainly generated from oil or solar panels, but appliances are often run using lead acid batteries that are inefficient and expensive to import. As well as providing a reliable source of power for schools and hospitals, reusing lithium ion batteries will also benefit the environment. Currently, these batteries are not widely recycled and are classed as hazardous materials, meaning companies often store used batteries because they have no safe way to dispose of them. Proof of concept was achieved earlier this year in a trial with over 1,000 recycled batteries.
Amrit was inspired to start his business ACELERON with Co-Founder Carlton Cummins whilst working from the University of Birmingham's Bizzinn incubation space, being mentored by Dr. James Wilkie, Director of Enterprise & Innovation at the University of Birmingham and taking advantage of the mentoring other business support on offer. ACELERON's work will be wide ranging - the company is already supplying an e-bike manufacturing company with batteries for their e-bikes, which are currently being ridden by end-users in London.
From a shortlist of innovative submissions for this year's award, the panel of experienced senior engineer Liverymen were impressed by Amrit's innovation and his work's potential for significant environmental impact. He was presented with his award at the Worshipful Company of Engineers' Annual Awards Dinner by Her Royal Highness Princess Anne, held at the Royal College of Surgeons in London, on 18 July 2017.
Amrit said: "The potential impact this could have on the world is really big. That's what excites me about this idea - I want to make a positive change to the planet and to people's lives. I am delighted that my work has been recognised by such a prestigious engineering institution."
David Cooper, Co-ordinator of the Hawley Award for the Engineers Trust (the charitable arm of the Worshipful Company of Engineers), said "we were particularly impressed by the positive potential that this product has towards the environment as well as community with its ability in remote and third world environments. We were also impressed with the outcome of the concept testing."
Dr James Wilkie, Director of Enterprise & Innovation at the University of Birmingham said:  "Amrit is one of the outstanding entrepreneurs who have emerged from the University of Birmingham recently.  Like many serial innovators, he engaged at an early stage with entrepreneurship training, and also made the most of the mentoring available at the University and our business incubator.  We are grateful to the Hawley Award, the Engineers Livery Company and the Engineers Trust for making this award."
The campaign to find the 2018 Hawley Award winner will launch in September 2017.
- Ends -
For press enquiries and image requests
Notes for editors
The Fiona and Nicholas Hawley Award was established in 2006 and is made annually to recognise excellent work in "Engineering Innovation that benefits the Environment" by an early career stage engineer or scientist, resident of the UK, graduate or more senior member of a recognised engineering institution. The Hawley Award is aimed at inspiring younger engineers who can best demonstrate the application of proven technology which they have developed at least to prototype stage, with an expectation of commercial development to have positive benefits to the environment.
The Engineers Trust (http://engineerstrust.org.uk/) is the charitable trust of the Worshipful Company of Engineers (www.engineerscompany.org.uk) (one of the City of London's modern Livery Companies with over 300 members) promoting the development and advancement of the science, art and practice of engineering. The Trust Fund gives annual awards and prizes to support and encourage excellence amongst qualified engineers and those training to be Chartered Engineers, Incorporated Engineers and Engineering Technicians.
The Award is supported by the Engineering Council, which holds the national Register of over 222,000 Engineering Technicians (EngTech), Incorporated Engineers (IEng), Chartered Engineers (CEng) and Information and Communication Technology Technicians (ICTTech). The organisation also sets and maintains the internationally recognised standards of competence and ethics that govern the award and retention of these titles. By this means, it is able to ensure that employers, government and wider society, both at home and overseas, can have confidence in the skills and commitment of registrants. For more information, please visit www.engc.org.uk
BizzInn is a business incubator run by the University of Birmingham, which provides an intensive start-up and growth programme for entrepreneurs to deliver investment-ready individuals, start-ups and SMEs.  The BizzInn is supported by the Birmingham Knowledge Economy Business Incubation Partnership (BKEBIP) project which receives up to £1m of funding from the England European Development Fund as part of the European Structural and Investment Funds Growth Programme 2014-20. For further information about the BizzInn, please visit: www.bizzinn.org
ACELERON is revolutionising access to low cost lithium battery storage. This is done by taking perceived end-of-life lithium batteries, from the automotive and consumer electronics industry, and transforming them into 2nd life battery packs for other applications such as renewable energy storage. The goal of this mission is to introduce lithium batteries to the circular economy; reducing waste, by reusing these batteries, to produce low cost energy storage for many societies. With energy directly linked to development, and wellbeing in many regions, Aceleron will tackle several societal issues ranging from poverty and education to quality of life. For more information see: https://www.youtube.com/watch?v=gWMHUVu9lU4 and https://www.youtube.com/watch?v=6S51bikcgKU&t=1s or www.aceleronltd.com