Unmanned voyage across the Atlantic announced
Published: 17/10/2019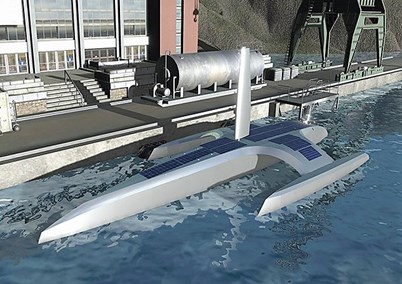 In September 2020, 400 years after the Mayflower ship first carried the Pilgrim Fathers to America, a state-of-the-art unmanned ship will travel the same route running on renewable energy.
The Mayflower Autonomous Ship (MAS) is a collaboration between the University of Plymouth and the marine research and exploration charity ProMare. The ship has been built by MSubs, with Operational Decision Manager artificial intelligence systems from IBM. MAS will use IBM's deep learning software to choose the course of the journey – avoiding collisions and taking weather data into account. The ship will use cameras, satellites, GPS and radar as well as light detecting and ranging (LIDAR) technology.
The ship will run on solar and wind power, with a backup diesel generator for emergencies. MAS is a trimaran with one long, main aerodynamic hull and two smaller hulls which will stabilise the ship and host solar panels.
The team behind the project includes Engineering Council Board Member Professor Kevin Jones CEng CITP CSci FIET FBCS, who is Executive Dean of the Faculty of Science and Engineering at Plymouth University.  Professor Jones said:

"This voyage has the potential to be a real game-changer and cements Plymouth's reputation as a world-leading hub of marine science. It gives us the genuine capability to explore new and innovative research opportunities that have not previously been possible. It also raises the bar in terms of autonomous vessels, a world first that could set the standard for others in the field to follow."
As well as trialling the use of artificial intelligence for autonomous vessels, MAS will also be gathering data for oceanic research. Three research pods, designed by University of Plymouth scientists, will gather detailed information about marine conditions, pollution and conservation, including the distribution of microplastics in the ocean.  
The Mayflower's original voyage in 1620 took two months to transport the Puritan settlers, who would become known as the Pilgrim Fathers, from Plymouth America. The Mayflower landed in Massachusetts on 21 December 1620. The modern Mayflower Autonomous Ship, which is not weighed down by passengers or any necessities such as food or water, is expected to make the journey in around two weeks.
For more information please visit the University of Plymouth website.