Tomorrow's Engineers Week: Covid changes dream careers
Published: 02/11/2020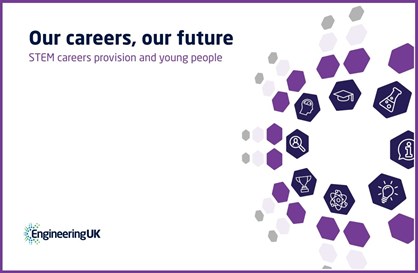 A generation of young people are rapidly reassessing their career dreams according to research released by Engineering UK. This news marks the beginning of Tomorrow's Engineers Week (#TEWeek20) which runs from 2–6 November.

The report Our Careers, Our Future is available to download from EngineeringUK, and shows over one in five 11 to 19 year olds agreed that what they want to do as a career has changed (22%) and 30% agreed that what career they can do has changed as a result of the pandemic. The report authors claim that this suggests that the pandemic is affecting – and in some cases, constraining – young people's careers aspirations.

Figures show that, despite improvements in recent years to careers advice, access to support is not universal. In fact, researchers found that 15 to 16 year old boys in Year 11 were 1.3 times more likely to receive careers guidance than girls. Since school closures in March 2020, over three quarters (76%) of 11 to 19 year olds have not accessed formal careers activities.

Tomorrow's Engineers Week is designed to help broaden the minds of young people and inspire them about the exciting opportunities in the world of engineering through digital and social media platforms.

A packed calendar will see engineering institutions, employers and schools come together to deliver inspiring activity to show young people the vital importance of engineering careers and deliver advice about how to become an engineer in the future.

Activity taking place includes young engineers taking over social media channels and answering questions from young people and The Big Quiz for students aged 11 to 16.

The Royal Academy of Engineering (RAEng) will also run its annual This is Engineering Day on Wednesday 4 November, celebrating the engineering that shapes our world for the better, whether that's by making our day to day lives easier or tackling some of our biggest global challenges.

In education, young people living in poverty are already at a disadvantage compared to their wealthier peers. The pandemic has affected how young people access education and this gap is expected to expand as many disadvantaged students do not have access to learning resources online or to appropriate devices.

It is critical that initiatives aimed at widening participation in STEM take this reality into account, working collaboratively across schools, employers, outreach providers and policy makers to ensure that young people who are digitally excluded are not left behind. Research by Tomorrow's Engineers found that the most popular request from young people was more information on careers delivered in a business environment. 

To help deliver this, EngineeringUK has launched the Tomorrow's Engineers Code – a new approach to engagement, with Professional Engineering Institutions, FTSE 100 corporates, Small and Medium Enterprises (SMEs), government departments and universities working towards common goals to increase the diversity and number of young people entering engineering.

Dr Hilary Leevers, Chief Executive of EngineeringUK, commented:

"Engineering, manufacturing and technology provide a breadth of exciting careers that will be at the heart of rebuilding the UK economy post Covid-19.

"Many thousands of engineers will be needed in new jobs in infrastructure, decarbonisation and maintenance projects to upgrade our hospitals, schools and road network, make public buildings greener and help the UK achieve its aspirations of achieving Net Zero by 2050.

"With young people trying to navigate a post-pandemic, post-Brexit education and training landscape, we believe that now more than ever, they will need support in building their insights into different careers which is why events like Tomorrow's Engineers Week are so vital."

The eighth Tomorrow's Engineers Week takes place 2-6 November 2020 and in the past three years alone, Tomorrow's Engineers Week has seen over 100,000 young people take part in interactive engineering school assemblies, almost half a million views of inspiring films about engineers on a mission to make the world a better place, hundreds of millions of social media content views and widespread media coverage.

For more information, visit the Tomorrow's Engineers Week website.