Biggest Big Bang Fair ever!
Published: 18/06/2018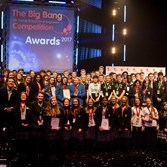 The Big Bang UK Young Scientists & Engineers Fair was a resounding success in 2018. It brought the excitement of exploring the wonders of science, technology, engineering and maths (STEM) to almost 80,000 visitors over four days in Birmingham's NEC.
An equal mix of boys and girls explored STEM careers, trying out activities and workshops from over 100 inspirational exhibitors and watching the 12 amazing shows.
One of the highlights of the Fair was the finals of the Big Bang Competition with 500 young entrants vying for wonderful prizes. Winner 18-year old Josh Mitchell from Holmes Chapel Comprehensive School was named UK Young Engineer of the Year for his low-cost, flat-pack 3D printer. See Josh explain his project in this video. Emily Xu, aged 18 from the James Allen's Girls' School in Dulwich, was awarded GSK UK Young Scientist of the Year for her project, New Ways of Separating Mirror Image Molecules. Watch the video of Emily explaining her project at the Fair.
Runners-up in the Engineering Prize category presented projects including a Cerebral Palsy Mobility Device from Gabriel Phillips, a Riding Aid with Storage from Sophie Search and Space Saving Furniture from Beth Mottram. Further details and winners can be seen on the Big Bang website.
Online entry for the 2019 UK Young Engineer of the Year and GSK UK Young Scientist of the Year opens in late spring 2018.
The event was attended by Stephen Metcalfe MP, Government Envoy for the Year of Engineering (YoE) and also by key representatives of the This is Engineering campaign. 
The Year of Engineering is a government campaign, which celebrates the world and wonder of engineering. It also forms an important part of the Government's Industrial Strategy which is committed to boosting engineering across the UK, ensuring everyone has the skills needed to thrive in a modern economy. This is Engineering is a new multi-year campaign led by the Royal Academy of Engineering in partnership with eleven major engineering organisations to change the perception of engineering among young people aged 13─18.
If the Birmingham NEC is not easy to get to, children across the country can attend local events where the Big Bang Near Me programme plays a vital role in inspiring the UK's future scientists and engineers at a regional, local and school level. The full calendar of local events can be found on the Big Bang site.