The Big Bang Fair 2018 has had another successful year 
Published: 16/04/2018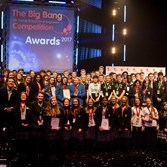 The Big Bang Fair 2018 has had another successful year in celebrating science, technology, engineering and maths (STEM) for young people in the UK.
The fair was attended by thousands and amidst the visitors, the event was attended by Stephen Metcalfe MP, Government Envoy for the Year of Engineering (YoE) and also by key representatives of the This is Engineering campaign. 
This is Engineering is a key partner in HM Government's YoE, which launched in January 2018. Together the two campaigns will help inspire the next generation of engineers, raising public awareness about engineering's variety, appeal and impact.
Registration for the next Big Bang Fair 2018 will open in October 2018.