Structural Awards opens with new categories and sustainable emphasis - deadline extended
Published: 04/02/2020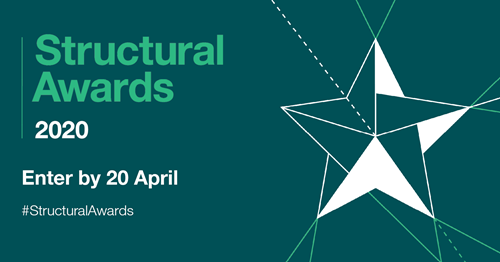 The nominations deadline for the Structural Awards, presented by the Institution of Structural Engineers (IStructE) has been extended to 13 May. The Structural Awards are the only international awards focused exclusively on structural engineering excellence and entries are welcome from innovative structural engineering projects around the world. Both large and small project are eligible, as long as they have been completed between 17 April 2019 and 20 April 2020.
Entries will be assessed by an expert panel of judges: structural engineers who are all leaders in their fields. Over half of the judges are professionally registered.
This year's award categories reflect IStructE's growing emphasis on sustainability. While previous years included an award for sustainability, this year every submission must demonstrate its sustainability credentials. This includes stating the carbon count where this has been conducted and demonstrating that the carbon footprint was minimised as far as possible.
The Chair of the Structural Awards Judging Panel, Tim Ibell FREng, FIStructE, FICE, FHEA, explains: "The judges feel we no longer need a separate category for what must be embedded culture."
"We're acutely aware that many projects submitted in 2020 were conceived well before the climate crisis was quite so prevalent in the profession's thinking, and we'll take that into account this year."
Though benchmarking data is not yet available, in future years IStructE plan to require that all submissions provide a carbon count and demonstrate that their projects are below the average.
In addition, there are two new award categories for 2020: one for Minimal Intervention and one for Zero Carbon. Tim Ibell explains:
"Anecdotal evidence demonstrates that some of the greatest structural engineering expertise is demonstrated in advising clients not to do anything major to their existing structure or, at worst, to intervene in a minimalist manner. At present, we do not reward such structural engineering excellence, so we have decided that we should."
The Zero Carbon Award aims to highlight what is possible and inspire future works. As structural engineers have direct control over the carbon footprint of building projects, including materials used, they are in an influential position to alter future practice.
"We've made these changes because the profession needs exemplars of wonderfully inspiring, exciting and low-carbon structures to be exhibited and celebrated, so that they become the norm over time," says Tim Ibell. "The Structural Awards reward innovation and they encourage others to do similarly extraordinary things."
More information, including the full list of award categories, is available at the Structural Awards page on the IStructE website. Nominations are open until 20 April. The shortlist will be announced 3 August, with the awards ceremony taking place 6 November.