'STEM: The Hidden Workforce' survey published
Published: 09/07/2020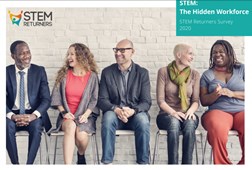 A new survey by STEM Returners, an initiative set up by The Institute of Marine Engineering, Science and Technology (IMarEST) and Women's Engineering Society (WES), has found that two thirds feel the traditional recruitment process works against them.
More than 8 out of 10 people seeking to return to jobs in the engineering industry said they feel they have been victims of a biased recruiting system. Already a significant issue, this bias has the potential to have a negative impact on the efforts to re-employ the thousands made redundant due to Covid-19. 
Groups facing the biggest barriers to re-entry include female engineers responsible for childcare and those from ethnic minorities including refugees. Graduates from ethnic minorities also face high barriers to entering the industry.
STEM Returners helps professionals to return to full time engineering jobs after a career break. Nearly half of those helped are women and a third are from ethnic-minority backgrounds.
Natalie Desty, director of STEM Returners says: "There's no such thing as a " standard returner". People take career breaks for a huge variety of reasons including maternity or caring responsibilities, ill health, redundancy and relocation,".
For more information and to read the full survey, please visit the IMarEST website.