Standards Review consultation open now
Published: 01/07/2019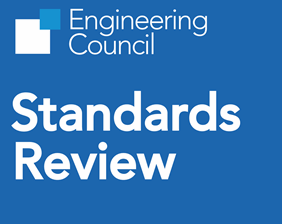 As part of our five-yearly Standards Review, the Engineering Council is carrying out a second public consultation.
We have taken into account the views expressed during our consultation in 2018 and produced revised drafts of:
The UK Standard for Professional Engineering Competence (UK-SPEC)
Accreditation of Higher Education Programmes (AHEP)
Approval and Accreditation of Qualifications and Apprenticeships Handbook (AAQAH)
We want to hear what you think about these drafts. Rather than asking specific questions, we are providing the draft revisions, along with summaries of the significant changes in each draft, and we invite you to review those that are relevant to you and to tell us how well they meet your needs. You might like to note that a summary report of the public consultation we carried out in 2018 is available elsewhere on our website.
The consultation and all the relevant documents are available at www.engc.org.uk/consultations - the final date for responses is Friday 2 August 2019 and a summary of the responses received to this consultation will be published in due course.
For engineering academics, we will be holding an AHEP consultation event on Wednesday 24 July at Middlesex University (Hendon) from 10.30am to 3pm.  Professor Sean Wellington (IET and Chair of the AHEP Working Group) will be chairing the event, and there will be opportunities to discuss all aspects of the next version of AHEP. If you are an engineering academic or involved in accreditation for your organisation, and would like to attend, please email accreditation@engc.org.uk by Wednesday 10 July to register your interest.