Rooke Award for public engagement with engineering presented to astronaut Tim Peake
Published: 17/10/2019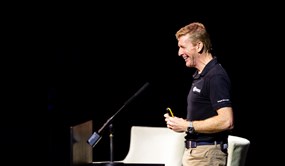 Tim Peake, the UK's first European Space Agency astronaut, yesterday received one of the Royal Academy of Engineering's (RAEng) top accolades at a special event for 400 school pupils at the Science Museum IMAX in London. Tim shared with the pupils his experience of travelling into space aboard a Soyuz capsule to the International Space Station and how his successful mission depended on engineering and science.
RAEng CEO Dr Hayaatun Sillem presented Tim with the 2019 Rooke Award for public engagement with engineering, in recognition of his nationwide promotion of engineering and space. He personally spearheaded the Principia mission's education programme, the largest and most successful educational campaign supporting a European astronaut mission.
Eighty lucky pupils then attended a special space-themed CoderDojo session in the Flight Gallery, where they had an introduction to programming. This session was led by the Raspberry Pi Foundation, a charity with a mission to put the power of technology in the hands of young people all over the world. At the core of this is the Raspberry Pi, the world's most affordable computer, and their free educational programmes, such as CoderDojo and the Astro Pi challenge, run in partnership with the European Space Agency.
Raspberry Pi formed an integral part of Tim Peake's space mission as two Raspberry Pi computers travelled to the ISS with him on their own mission. These tiny computers, called Astro Pis, were used to measure the environment on board the ISS, and give schoolchildren the chance to have their code run in space. The Astro Pi challenge continues to allow schoolchildren the opportunity to run their programs in space.
Launching in a Soyuz rocket on 15 December 2015, Tim became the first British ESA astronaut to visit the International Space Station (ISS) and conduct a spacewalk during his eventful six-month mission. He has since taken part in over 250 scientific experiments for ESA and international partners during his mission.
Tim was determined to make Principia an exciting and engaging adventure for young people and has used the opportunity to inspire them in the science and engineering of human spaceflight. Through an educational outreach programme of more than 30 projects, to date, Tim's Principia mission has inspired and engaged more than two million school children in 10,000 schools – a third of all the schools in the UK.
For further details, please see the RAEng website.