Redefining engineering for young people
Published: 06/09/2018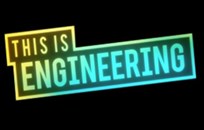 This is Engineering is a campaign led by the Royal Academy of Engineering in collaboration with EngineeringUK to bring engineering to life for young people and to show them what engineering really looks like, breaking away from the traditional stereotype. The campaign aims to show young people that engineering can be an exciting and rewarding path for their future, and offers a future-shaping, varied, well-paid and in-demand career opportunity.
This is Engineering shows that engineering is cutting edge: from robotics, machine learning and artificial intelligence, to mobile phones, medical technology, advances sports equipment and driverless cars. Engineering is shaping the future all around us and can appeal to everyone, no matter your background and interests.
A series of videos featuring young engineers, known as 'engineering heroes', who are making creative leaps in the sector illustrates that engineering is at the heart of everything, from design, sport, music, space, fashion and tech. A second season of videos featuring five new heroes is released on Monday 10 September.
Parents and teachers looking for advice and resources for children and students interested in pursuing a career in engineering are encouraged to look at the Tomorrow's Engineers website, Royal Academy of Engineering resources, or the Year of Engineering website for information and local events.
See the This is Engineering campaign