Professor John Perkins honoured with EPC President's Prize
Published: 19/06/2020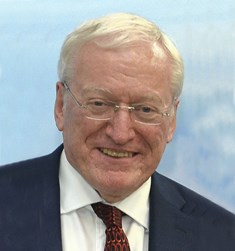 The Engineering Professors' Council (EPC) has awarded its biennial President's Prize to Professor John Perkins CBE FREng. The prestigious award recognises Professor Perkins' outstanding contribution to engineering education.

The EPC is the representative body for engineering in higher education. EPC President, Professor Colin Turner, said of the award:

"There was no doubt about who should receive this year's President's Prize. No one has done more in the past decade to further the learning experience and skills development of tomorrow's engineers than John Perkins. He has achieved change for students, for academics and for employers that will help our wider society to become more sustainable and prosperous for many generations to come. I am very proud to have the honour of awarding this prize to an engineer who has been a most deserving friend, mentor and role model to so many colleagues."

Professor Perkins has served as Vice President of the Royal Academy of Engineering (RAEng) and President of the Institution of Chemical Engineers (IChemE). He has also held academic roles at Imperial College London, the University of Manchester, and the University of Sydney.

However, Professor Perkins is best known for his work as the Chief Scientific Adviser to the UK government's Department for Business, Innovation & Skills. In this role he wrote the 2013 review of engineering skills, known as the Perkins Review. This influential report gave 22 recommendations to government, industry and the education sector on how to meet the growing demand for engineering skills. Professor Perkins' work has helped shape the UK's engineering education, including work to increase the pipeline of students taking engineering subjects, and close collaboration with industry to meet future demands.

The EPC announced the award at a live webcast where Professor Perkins gave an address titled 'Engineering Skills for the Future'.  

Professor Perkins said: "I can't begin to say how touched I am to receive this award, particularly as it decided upon by my engineering professorial peers."

For more information see the EPC website.