Post A-Level Support Hub - Women's Engineering Society
Published: 14/08/2020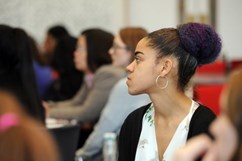 If you've just received your A-Level results, you may find the Post A-Level Support Hub put together by the Women's Engineering Society (WES) helpful. 
The Hub includes information about how grades have been worked out, your options now (with contact details for Ofqual and the Exam Results Helpline) and how to appeal. 
There are a wide range of route into a career in engineering, including apprenticeships, some of which include a degree. You can search for apprenticeships through the National Apprenticeship Service; the Engineering Council also has information about apprenticeships as well as case studies of some of the professionally registered engineers and technicians who started their careers as apprentices.
One of the Engineering Council's strategic objectives is to ensure that no barriers exist for anyone appropriately qualified to become professionally registered and we champion and support diversity and inclusion. 
If you're not sure what a career in engineering might look like for you, This is Engineering shows the huge variety of roles available and how engineering shapes our world. Their 'Where To Next?' section cover apprenticeships, vocational qualifications and university.
Tomorrow's Engineers also offers Career Inspiration and a range of downloadable careers resources. 
Image © This is Engineering