Nominations open for Royal Academy of Engineering's 2022 Medals and Awards
Published: 17/01/2022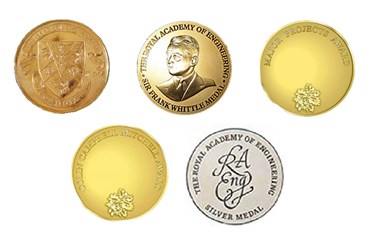 The Royal Academy of Engineering (RAEng) is currently accepting submissions for some of its most prestigious awards and medals, including the MacRobert Award for engineering innovation. RAEng has chosen to rename two of its top awards, to accurately reflect the modern engineering landscape.

Professor Bashir M. Al-Hashimi CBE FREng, Chair, of the RAEng Awards Committee, said:

"Academy prizes and medals recognise excellent engineering wherever it might be found. The celebration of engineering excellence is key to demonstrating the relevance of engineering to society today and inspiring the next generation of engineers."

The MacRobert Award for engineering innovation is the UK's longest-running and most prestigious national prize for engineering innovation. It recognises engineering projects which have both a tangible societal benefit and proven commercial success.

Previous winners include Freeman, Fox and Partners, for the Severn Bridge and Rolls-Royce for the Pegasus engine; EMI Ltd for the CT Scanner; Buro Happold for the roof structure of the Millennium Dome and Raspberry Pi for its inexpensive credit card-sized microcomputers. The 2021 winner was DnaNudge Ltd, who developed pioneering consumer genetics technology, which was pivoted and adapted to deliver rapid, lab-free RT-PCR COVID-19 tests to NHS hospitals.

Originally founded by the MacRobert Trust, the Award is now presented and run by the Royal Academy of Engineering, with support from the Worshipful Company of Engineers. The winning team will be awarded £50,000 as well as the gold MacRobert Award medal.

RAEng's Silver Medal, which celebrates an early to mid-career engineer's outstanding personal contribution to UK engineering, has been renamed to The Princess Royal Silver Medal. This reflects RAEng's Royal Fellow, HRH The Princess Royal.

In-line with RAEng's strategic goal on sustainability, its Major Project Award has been renamed to the Major Project Award for Sustainability. The award will be presented to a team that has played a critical role in a major engineering project that has a substantial impact on society and sustainability.

The Collin Campbell Mitchell Award is given to either an individual engineer or a team of up to six engineers, working or studying in the UK. The award recognises a great contribution to the advancement of any engineering field in the previous four years. Winners will receive a cash prize of £3,000 for an individual or up to £6,000 for a team.

The Sir Frank Whittle Medal, named after Britain's jet engine pioneer, is awarded to an engineer resident in the UK whose outstanding and sustained achievements have had a profound impact on their engineering discipline.

Applications for the MacRobert Award are open until 5pm, 31 January 2022. Applications for all the other awards and medals are open until 5pm on Friday 4 February 2022.

For more information about each award and how to apply please visit the RAEng website.