Nominations open for awards and medals from the Royal Academy of Engineering
Published: 28/01/2021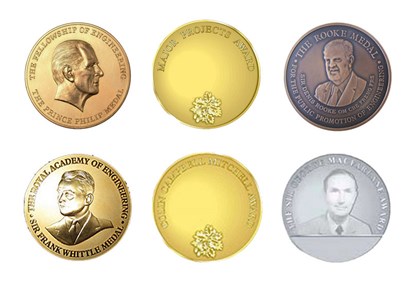 The Royal Academy of Engineering (RAEng) is currently accepting nominations for a number of its prestigious awards and medals. RAEng celebrates excellence in engineering and these awards aim to recognise the very best of engineering talent, as well as the positive impact engineering has on the world.

Nominations are currently open for:

The Prince Philip Medal

This award was commissioned by HRH The Prince Philip Duke of Edinburgh KG KT, who is a Senior Fellow of the Royal Academy of Engineering. It recognises an engineer of any nationality who has made exceptional contributions to engineering through practice, management or education.

This award is biennial, but is being awarded in 2021 to mark HRH Prince Philip's centenary.

The Major Project Award

This team award recognises a team's critical role in a major engineering project which has had a substantial impact on society and sustainability.

Rooke Award

Named after RAEng Fellow and former President Sir Denis Rooke, this award recognises the public promotion of engineering by an individual or team of up to five people. Nominees must be based in the UK, and have supported RAEng's aims through their work.

Sir Frank Whittle Medal

This medal recognises outstanding and sustained achievement in any engineering discipline. It is named after Britain's jet engine genius, and awarded annually to an engineer resident in the UK.

The Colin Campbell Mitchell Award

This award commemorates the life of one of Scotland's most accomplished marine engineers. It recognises the greatest contribution to any engineering field in the four years prior to the award. Recipients can be individuals, or a team of up to six people, working or studying in the UK.

There is a cash prize of £3,000 for an individual, or £6,000 for a team.

RAEng Engineers Trust Young Engineer of the Year

This £3,000 prize goes to individual engineers who have demonstrated excellence in their early careers, which is marked as being within ten years of graduation from their first engineering degree. There will be five individual recipients of this prize, which is supported by the Worshipful Company of Engineers.

There is no restriction on what discipline nominees work in, but they must be either UK citizens, or have been working in the UK for at least three years immediately before the awarding of the prize. An overall winner will also receive the Sir George Macfarlane award (see below).

Sir George Macfarlane Medal

This award, in memory of one of the founding Fellows of RAEng, Sir George Macfarlane FREng, recognises a UK engineer who has demonstrated excellence at an early stage of their career.

This medal is presented to the overall winner of the RAEng Engineers Trust Young Engineer of the Year award.


The closing date for all of these awards and medals is 4pm, Friday 26 February 2021. To nominate an individual or a team, visit the RAEng website to register and create a profile.