New survey shows huge university engineering response to Covid-19
Published: 28/05/2020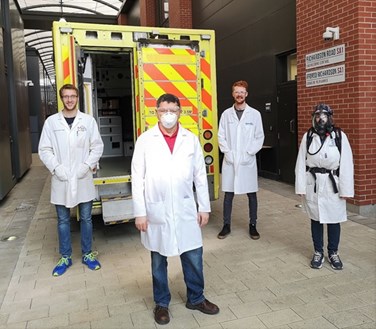 A recent survey demonstrates the overwhelming scale of the engineering response to the Covid-19 pandemic. In the Engineering Professors' Council (EPC) survey 96% of respondents said they and their colleagues had volunteered their engineering expertise, resources and skills to fight the virus.
Many engineering teams at universities have leapt into action producing lifesaving personal protective equipment (PPE) for frontline healthcare workers. The University of Hull, for example, has produced over 21,000 face shields certified to EU standards. By working with industrial partners, engineers have increased this output to over 70,000 face shields per week.
The speed and scale of collaboration has been remarkable. Efforts from university engineering departments range from the Hack Quarantine hackathon organised by the University of Birmingham, to Swansea University engineers (pictured) leading a project using blast gas to rapidly decontaminate ambulances.
Engineers have contributed to numerous projects to secure supply chains, increase manufacturing, and develop new technology to better meet the new need for ventilators, PPE, virus testing and more. Out of more than 50 engineering departments surveyed, only two had not been actively involved in the response to Covid-19. Over half of respondents had provided expert analysis, advice and engineering skills, one third had developed or supplied medical equipment, and four out of five had produced PPE.
Professor Colin Turner, President of EPC, said:
"It is humbling to see so many colleagues across the country do what engineers do best: see a problem, get creative and do whatever it takes to solve it. Universities are the anchors of so many towns and cities and we take seriously our civic duty to offer up not only our world-class university engineering facilities and workshops, but also the expertise of leading engineering minds.
"Engineering academics, technicians and students aren't just helping address our immediate crisis. Our skills and innovations will help get the nation back on its feet logistically, practically and economically. Engineers will be the keyworkers of the recovery."
At both local and nationwide levels, engineers have offered their resources, specialist knowledge and problem-solving skills to respond to the unique challenges of the Coronavirus outbreak. For full details of the survey, please visit the EPC website